On Friday 4th December, Courtiers presented the 2020 Virtual Client Seminar via live broadcast.
The Investment Team shared insight on four key topics, with a Q&A panel to close.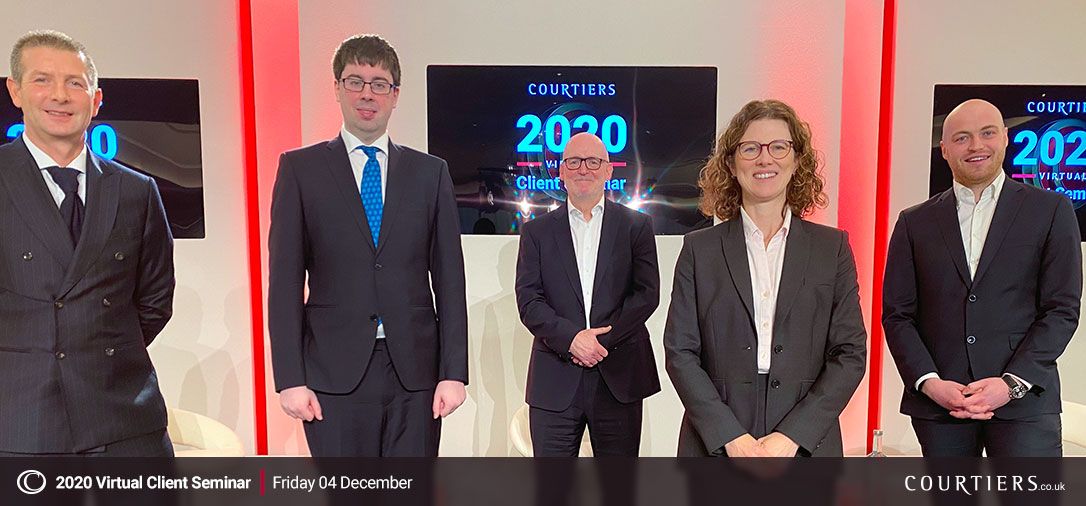 Host and speakers, left to right: Courtiers CEO Jamie Shepperd, Analyst James Timpson, CIO Gary Reynolds, Head of Fund & Asset Management Caroline Shaw and Jacob Reynolds, Quantitative Analyst & Data Scientist.
Thanks to everyone for joining us and for some excellent questions. We'll be collating answers to all of those we weren't able to put live to the panel on the day.
The seminar is available on demand above, with summaries and links to supporting documentation below:
Presentation Content
A Busy Year for Markets
Presentation duration: 10 minutes
Courtiers Analyst James Timpson takes us back through 2020, a year that will be remembered for many years.
Download documentation
Tech Dominance – Our Future or Another Bubble?
Presentation duration: 10 minutes

Jacob looks into the emergence of the Big Tech companies and asks, should investors be paying such big prices to own them?
Download documentation
What is ESG?
Presentation duration: 20 minutes
People. Planet. Profits. The evolution of ESG Investing. Caroline Shaw, Head of Fund and Asset Management, explains the latest trend in investing and how it works.
Download documentation
The Post-Covid Economy
Presentation duration: 20 minutes
2020 will be the worst UK recession since 'The Great Frost' of 1709.
The difference with this recession is that it's been caused by the government's decisions to 'lockdown' vast parts of our economy. Effective vaccines seem imminent, which could return life to normal by next summer, but what will the post-Covid-19 economy look like? Will our service and industrial sectors be 'scarred'? Or will this pandemic accelerate structural changes so that we become more efficient, reversing a decade of zero improvements in productivity?
Most important of all for investors and borrowers, will the all-time low global interest rates begin to increase in 2021 as things pick-up? Gary thinks interest rates have bottomed out and will begin to rise through the next cycle and in this session, he'll explain why.
Download documentation
Courtiers Question Time – Q&A Panel
Panel duration: 20 minutes
Please watch the seminar on demand to view Q&A content.
Thoughts count
Many guests shared valuable feedback…plenty to consider in enhancing the 2021 Client Seminar. We'll keep this to hand and look forward to delivering some exciting and informative content next year.
Thank you to all and "stay tuned".