We could introduce cashflow modelling by way of a literal definition, but let's start somewhere else…in the real world.
Charlie and Snoopy (yes, very much part of my real world!) share a short but profound exchange in a popular image below, which for me represents what cashflow modelling is and why it's important: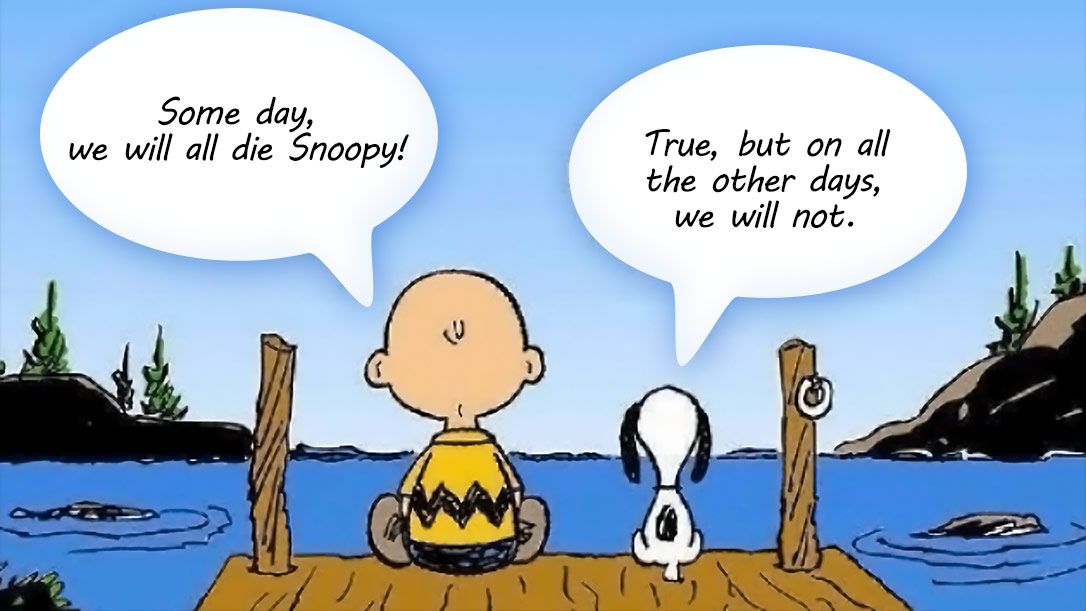 Image sourced via Google images
What really matters is what we might do during all the days between. After spending years building wealth, how do we spend it well in later life?
How do you make financial decisions now, knowing that you can maintain a desired standard of living in the future?
There are clues in cashflow
Cashflow modelling can demonstrate what's possible and help answer many questions around life planning, using a series of educated assumptions based on individual circumstances and goals.
By factoring real ambitions and uncertainty into financial forecasts, we can explore and assess how the decisions you make might have an impact down the line.
Do you take or leave a once in a lifetime opportunity?
Is now the right time to plan a life-enriching experience with the family?
How do you ensure those you love are comfortable and suitably cared for in years ahead?
Different wants / needs / views / priorities
Cashflow modelling is powerful and flexible. It can help answer potentially big questions surrounding broad and varied financial objectives:
Do you want to help your children in the future?
Are future holidays or home renovations important to you?
Could you retire today and meet your income needs for the rest of your life?
Could selling and downsizing be beneficial in meeting future expenditure?
Is the level of risk you're taking appropriate for your objectives? Could you reduce the level of risk you're taking and still meet your needs, or will increasing the level of risk extend the capital you have available?
We hear many questions like these through the course of financial planning. Answers can be established with the help of appropriate cashflow modelling.
Enhancement. Enrichment.
Cashflow modelling has always been part of effective financial planning. Courtiers has recently developed its cashflow modelling functionality as part of the ongoing financial planning process. In the near future we'll consider how this enhancement impacts on existing review meetings, but right now – let's look at how cashflow modelling works:
Following discussions, we take information relating to your circumstances and process it through cashflow modelling software. The data we then see is clear, colour-coded and easy to understand.
Example:
The chart below shows the accumulation of a client's liquid assets from age 50.
Blue shows positive cashflow while red show negative.
We can see based on the client's current objectives, their assets will fall short in providing a desired standard of living by age 80.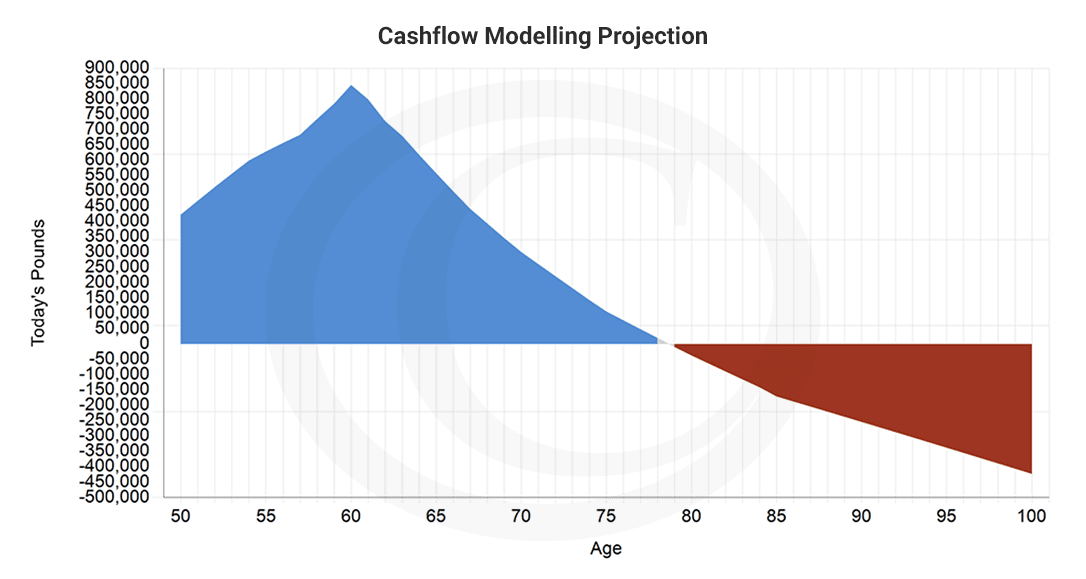 Key stages in the projection
Our client wishes to build wealth until age 60 then stop working.
What follows is the "decumulation stage". The client draws on more of their assets to subsidise desired standard of living.
By age 80, their assets no longer meet their expenditure requirements. This needs further consideration.
It's important to reiterate that cashflow modelling uses educated assumptions based on our discussions. It's not a crystal ball per se. The information we output can be scrutinised, data refined and discussed in real time. Adjustments can be made and further discussion can follow. Cashflow modelling is simply a means of forecasting, to help you plan your future, based on where you are in life and where you'd like to be.
Benefits
The benefits of cashflow modelling are not limited to these following examples, which have helped our clients in the course of their ongoing financial planning:
Visual projections of income and expenditure throughout an individual's lifetime. This provides a useful insight for clients to understand how much income may be required from their pension, whilst demonstrating how much wealth can be passed on to loved ones.
Expenditure analysis. We can advise clients how much extra they might be able to spend annually, without any major impact on the wealth they wish to pass onto next generations.
Assist in prioritising future expenditure. Clients are able to see the different impacts of choosing to gift money during their lifetime or passing it on to loved ones on death.
Discover potential capital for savings. Demonstrating to clients the impacts of inflation from keeping money on deposit, rather than investing it.
Simulate the effect of a market crash and the long-term effects on an individual's finances. It can be comforting for clients to know that despite market fluctuations, they can remain on track to meet their goals.
Potential Lifetime Allowance (LTA) breaches. Clients approaching the lifetime allowance can see the potential tax charges.
Going back to that definition…
To define cashflow modelling literally, we can call it:
A forecast of an individual's financial position based on a series of educated assumptions, both now and in the future.
Translate this into a real world scenario – as part of a complete wealth management journey – and we see cashflow modelling can mean much, much more.
In our next cashflow modelling article, we'll look at how we work with clients to gather information in order to build a model. If you have any questions in the meantime about cashflow modelling, or would like a demonstration, please contact us or speak with your adviser.