Chief Executive Jamie Shepperd vowed that Courtiers will retain the personal touch after the company hit the £1bn mark for Funds Under Management.
The £1bn milestone was reached last Thursday, following the acquisition of South West based advice firm Davidsons Independent Financial Advisers earlier in the month. A clearly delighted Jamie told me that breaking through the £1bn barrier takes Courtiers into the next league of wealth managers. "It puts us on the map." Not that he is resting on his laurels, Jamie says that by 2033, the target is £3bn Funds Under Management (FUM), one that given the growth in FUM, "we can be reasonably confident about."
Hand in hand with its increase in FUM (see Chart 1 below), Courtiers' growth as a company has certainly been impressive. Jamie described how as late as 2005, all employees (who then numbered just 15) could fit into one room for meetings.
Skilfully investing clients' funds alongside a series of acquisitions over recent years has transformed Courtiers into an organisation with a national presence. The company now employs 125 people across six key locations.
Chart 1: Courtiers Discretionary & Directly Held Total Funds Under Management:
April 1 2004 to August 27 2021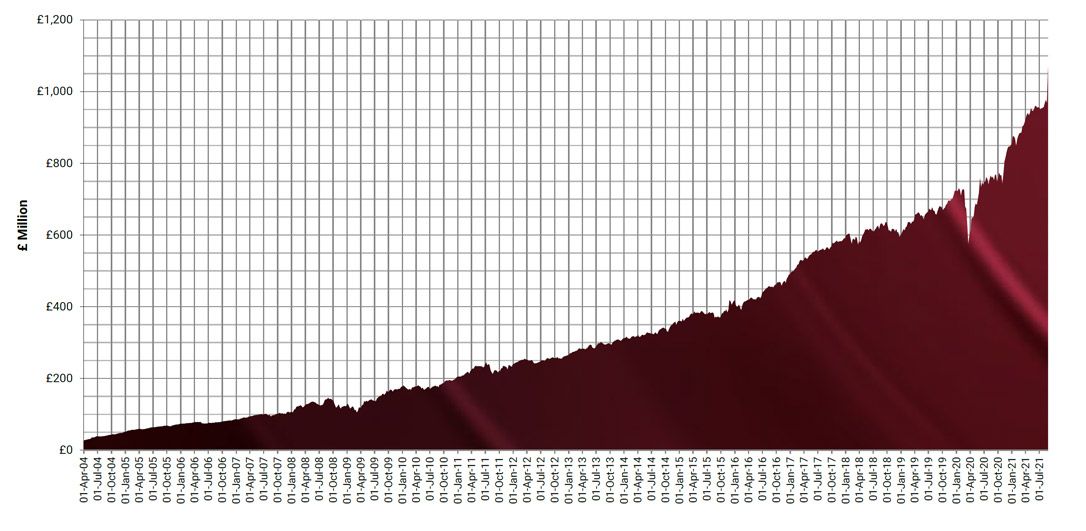 Source: Courtiers
Although many things, not least technology, have altered out of all recognition, some things have never changed. And as Courtiers enters the next exciting phase of its development, Jamie is clearly determined they never will.
Yes, he agrees. "We have to keep up to date", and change is necessary, but not if it means losing those aspects of the business that clients value and which mean Courtiers stands out. "It's about evolving as a company," Jamie explains. "Evolving in the modern world, but at the same time keeping the same high level of service at the heart of the business."
Attention to detail and catering for clients' needs and individual preferences, whatever they want out of life for themselves and their families is what drives Courtiers. Listening, Understanding and Guiding have long been Courtiers' core values, and it's clear from his remarks that if Jamie has anything to do with it, this will always be the case.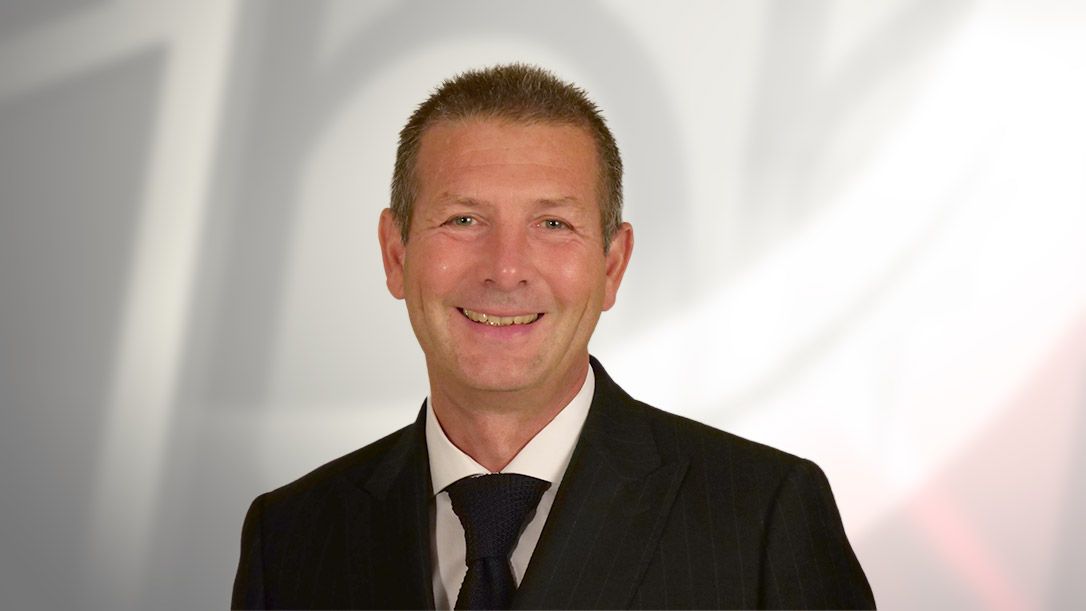 Asked directly whether Courtiers growth might mean clients missing out on the personal touch that has always been a hallmark of its service, Jamie was unequivocal. "That won't happen," he said firmly.
Jamie's words will be reassuring for Courtiers clients, a growing number of whom have trusted Courtiers with their investments for 30 years or more, with many now being joined by the next generation of family members. But how might this play out in practice for clients?
"We will limit the number of clients per Adviser." says Jamie by way of example. Similarly, to retain the personal touch he explains that as the number of Courtiers clients grow, rather than holding the same number of client seminars each year and going to bigger and more impersonal venues, the size of venue will remain as now, and the number of seminars increased. This will allow clients the opportunity to meet and build that all-important personal relationship with their Adviser.
Clients can also expect to regularly see virtual client seminars, the first of which was held last year. "This will allow those clients who don't want to attend in person, or are unable to travel, the opportunity to attend."
Growing as a company will also allow Courtiers to invest in the infrastructure necessary to deliver the high level of service to which clients are accustomed, says Jamie.
Over the next months and years, clients can expect to see the results of significant and ongoing investment in areas such as communication with Courtiers Advisers, and greater visibility of their investments. Additional resources and new technology will provide clients with enhancements in the news and information that clients receive from the company.
However, Courtiers' commitment to its clients doesn't end there. Courtiers is people. And that means the company's continuing commitment to investing in the education and ongoing professional development of its employees. As Courtiers continues to grow, Jamie is clearly determined not only to remain true to the core values and principles that see Courtiers where it is today, but to embrace the changes necessary to build an organisation fit for the future. Jamie's message is clear: Courtiers clients expect and deserve nothing less.