Jamie Shepperd, Courtiers CEO, says he's confident that the firm is well placed to meet the future needs of clients and their families as a report by PwC warns that one in six wealth management companies will disappear in the next five years.
The PwC report: Asset and wealth management revolution 2023: The new context, predicts that by 2027, 16% of existing asset and wealth management organisations 'will have been swallowed up or fallen by the wayside – twice the historical rate.'
The report, based on PwC's Global Asset and Wealth Management Survey and 2027 projections, lays out a stark choice for companies – adapt to this new context or fail. It then goes on to list five key imperatives for survival and success.
Among its most significant findings, the report predicts a major wave of consolidation within the industry, which it argues will result in many firms being swallowed up by others. It predicts that by 2027 the top ten traditional asset managers will control half of all global assets under management (AUM).
"Consolidation is really happening at the moment," agreed Jamie, revealing that Courtiers "gets approaches every week" – approaches that he emphasised Courtiers has absolutely no intention of entertaining. "We are a family business, privately owned and we'll remain that way," he states unequivocally. Indeed, the boot's on the other foot, he said, and Courtiers is always on the lookout to acquire "good quality companies." There are quite a few on the market at the moment, with many owners approaching the point when they are looking to sell up. "We can offer a good home to the clients of firms we acquire and to the employees of those firms."
Jamie said he wasn't worried about the biggest companies in the industry becoming more dominant. It's a $115 trillion industry and the top ten companies account for 44.3%, so "there's still plenty left to go round."
Jamie agreed with the report that uncertainty in global markets, inflation and high interest rates were a concern. However, from Courtiers' point of view, he said he was more concerned about regulation. This was not just the Financial Conduct Authority (FCA), which regulates Courtiers, but also employment and other types of regulation. "It seems to be the booming industry in this country at the moment."
"Regulation increases costs," said Jamie, because you need to employ more people to look at the regulations, audit the regulations and advise on the regulations and it takes you away from what you should be focusing on. "I'm in favour of a reasonable amount of regulation, but overregulation damages development."
While warning about the dangers of overregulation, Jamie acknowledged that in some ways it helps Courtiers. As you become a bigger company, you can absorb cost more easily, he explained. Furthermore, more regulation means that barriers to entry for newer and smaller companies have risen significantly.
The report highlights how a company's purpose and role within society are becoming increasingly important, particularly to employees, but also to clients and investors and to attract talent. Jamie pointed out the different things Courtiers is doing "to deliver benefits to the community". This includes sponsoring and supporting sport, from community youth football teams all the way to national league rugby with Rams Rugby Club and professional horse racing. Giving employees the time and space to enable them to raise money for the company charity is also good because it engages them. Employees can select a charity "that means something personally to them" and Courtiers matches any money they raise through various social activities arranged by the company's Social Club.
Environmental, social and governance (ESG) investing was "just common sense," he said. "Why would you want to invest in something that's bad environmentally and socially, bad for employees and has poor governance?" These considerations aren't just important for the younger generation but across all generations – all of whom are keen that companies "do the right thing."
According to PwC, the winners in the asset management industry will be those that embrace technology. Jamie said technology was "a major area of investment for Courtiers" and that the company was always pushing ahead with it. Not only will this make the experience of dealing with Courtiers better for clients, it will also improve the employee experience and drive operational efficiencies within the business. While over the years Courtiers has increasingly moved business into the cloud, a new and consolidated back-office system has just been introduced and work is ongoing on the client investment portal. As covered in a recent article, "AI's an area of significant interest for Courtiers."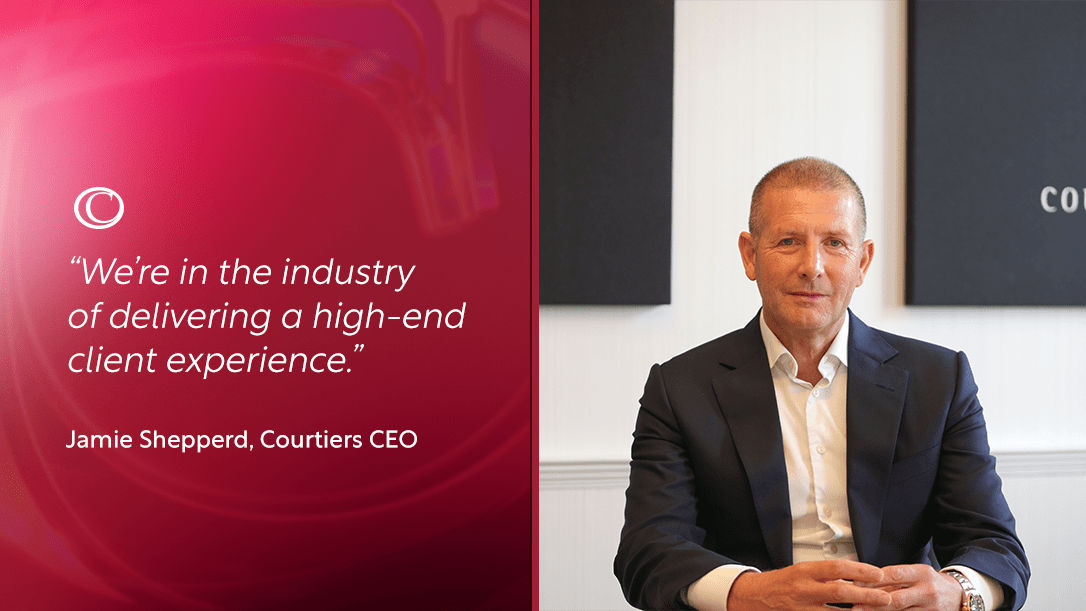 PwC predicts that a combination of competition and investor pressure will continue to drive down fees across the industry. Jamie accepted that pressure on fees was a factor across the industry and that there will always be some people who focus on cost. However, he responded; "We're not in that industry. We're in the industry of delivering a high-end client experience." As funds under management (FUM) continue to grow, Courtiers will be well-placed to bear down on costs "as the more diluted the fixed costs become within those funds."
'Getting closer to the customer' will be vital for companies if they want to thrive, says PwC. Jamie said Courtiers' whole philosophy was based on this principle and on understanding clients' needs. "We concentrate on building personal relationships with our clients and their families. Building those relationships is the foundation of Courtiers."
The PwC report identifies a growing demand among High Net Worth (HNW) individuals for 'differentiated financial products', particularly for ones that give them access to private markets. "That's fine," said Jamie, but only if you're prepared to take the "potentially significant risk" that's involved. Jamie said that Courtiers had purchased some assets privately. However, these were "unique opportunities where we fully assessed and understood the risk." And they were only "a very small proportion of the overall value of the funds."
Active Exchange Traded Funds (ETFs) managed by fund managers will also become increasingly important, says the report. "The Investment Team is always looking at this and if they think it's the best way to get into a particular or unique market, they'll do it," Jamie responded.
"We're seeing wealth cascade down the generations of families."
Another huge factor set to transform the landscape for asset and wealth managers is a predicted $68 trillion transfer of wealth from baby boomers to millennials. Jamie said Courtiers already does a lot "to encourage the younger members of families to become clients of Courtiers." This included operating a 'one price structure' that in most circumstances allows different generations of the same family to enjoy the same charges. This has been in place for around 20 years.
Intergenerational financial planning is also an important aspect of the service that Courtiers provides. Combined with Courtiers' strategy of actively encouraging the younger generations of existing clients to become clients this was bearing fruit. "We're seeing wealth cascade down the generations of families," said Jamie.
PwC's report envisages a difficult few years for those firms that fail to adapt to what it sees as the new realities affecting the asset management industry, with a significant number falling by the wayside. However, Jamie is clearly confident Courtiers won't be one of them. Bolstered by its strong financial position – "cash in the bank and no borrowings" – any objective assessment suggests that Courtiers is well-placed to withstand the 'new context' predicted by PwC, putting it in a strong position to meet the needs of its existing and future clients.