Those whose savings are invested in the stock market will be cheered by news that payouts by UK listed companies have staged a remarkable recovery. After falling by 43.1% in 2020, dividends jumped by 51.2% in Q2 compared to the same quarter in 2020, according to data company Link Group.
Dividends have come roaring back, with the removal of constraints on banking dividends leading Link Group to upgrade its headline forecast for 2021's payout to £79.5bn, up 24.4% year-on-year. Perhaps the most eye-catching sign of this revival was global mining group Rio Tinto's announcement that it will pay shareholders a total interim dividend of 404.10p in 2021, a 237.48% increase on 2020. Rio Tinto is held in all the Courtiers Multi-Asset Funds, as well as in the Global (ex-UK) Income fund.
So what's behind this recent resurgence? Is this the best investors can expect, or could there be more to come? I spoke to Courtiers Analyst Nyasha Jonhera to get her views.
Q: Why are dividends so important for investors?
Nyasha: Alongside capital appreciation, dividend income is a key component of an investor's returns. Dividend-paying stocks substantially increase the total returns of an investment portfolio. For instance in 2019, dividends contributed about 5.1% to the FTSE 100 Index returns, about one third of the total.
A further attraction of dividend-paying stocks for investors is that they are not directly correlated to the share price. For example, when the market crashed in March 2020, Legal & General's shares fell in value by about 56%, however the company still paid the full dividend.
Historically, dividends have been more stable than stock prices, which reduces volatility of returns and consequently overall portfolio risk.
How dividends enhance stock market returns
As Chart 1 below illustrates, the effect of dividends is both to cushion investors against capital losses during market declines and to augment positive capital returns.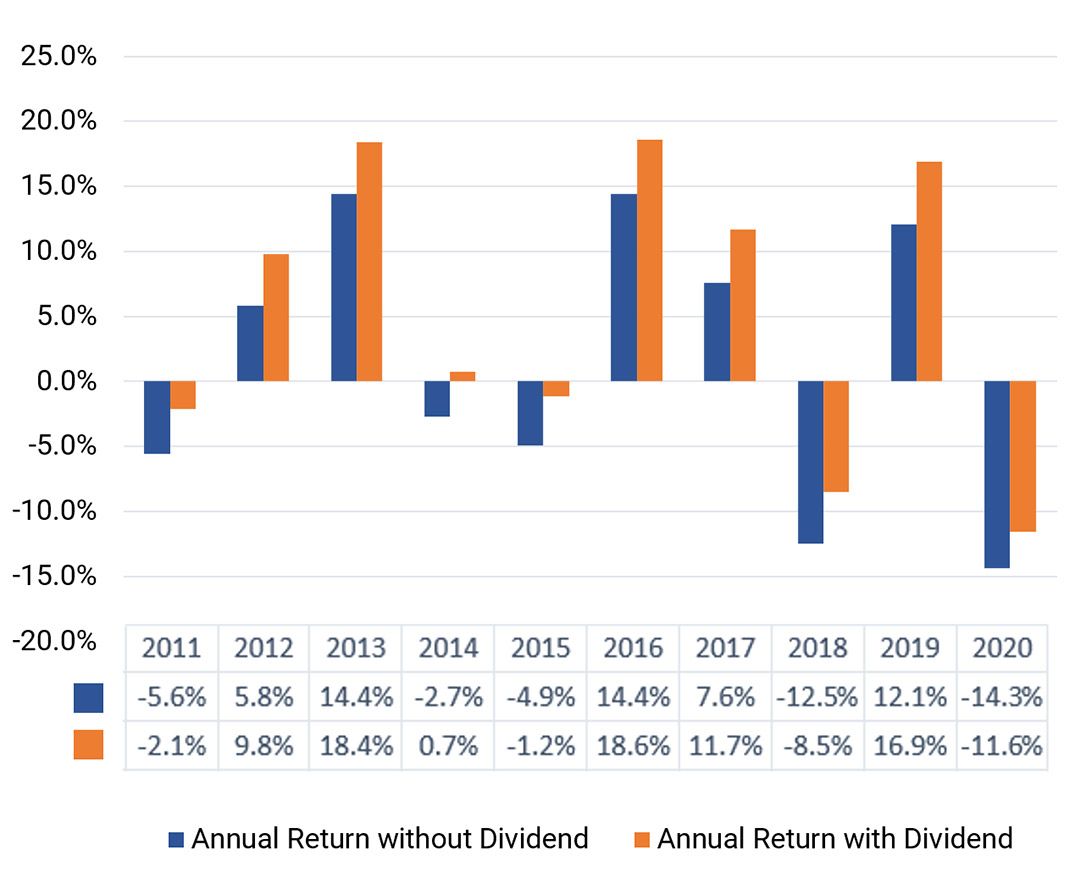 Source: Bloomberg
To offer an example based on the FTSE 100, between January 2011 and mid-2021, the FTSE 100 rose by about 20% in price, and by 78% on a total return basis.
Dividends also provide a hedge against inflation. Between 1974 and 1980, the average total returns for stocks outpaced the aggregate inflation for this time period. The stocks returned a total of 9.85% of which 5.0% was dividend income and 4.8% was from capital appreciation. The latter alone would not have provided that protection.
Q: Reinvesting dividends is an alternative to taking them as income, but what difference does it make to investment returns? 
Nyasha: Dividend reinvestment can help achieve competitive returns even in periods where share price performance is lacklustre. This is because when dividends earned on an investment are used to buy more shares the additional shares start to earn dividends as well. As Chart 2 below illustrates, the power of these compounded gains becomes clearer over the longer-term.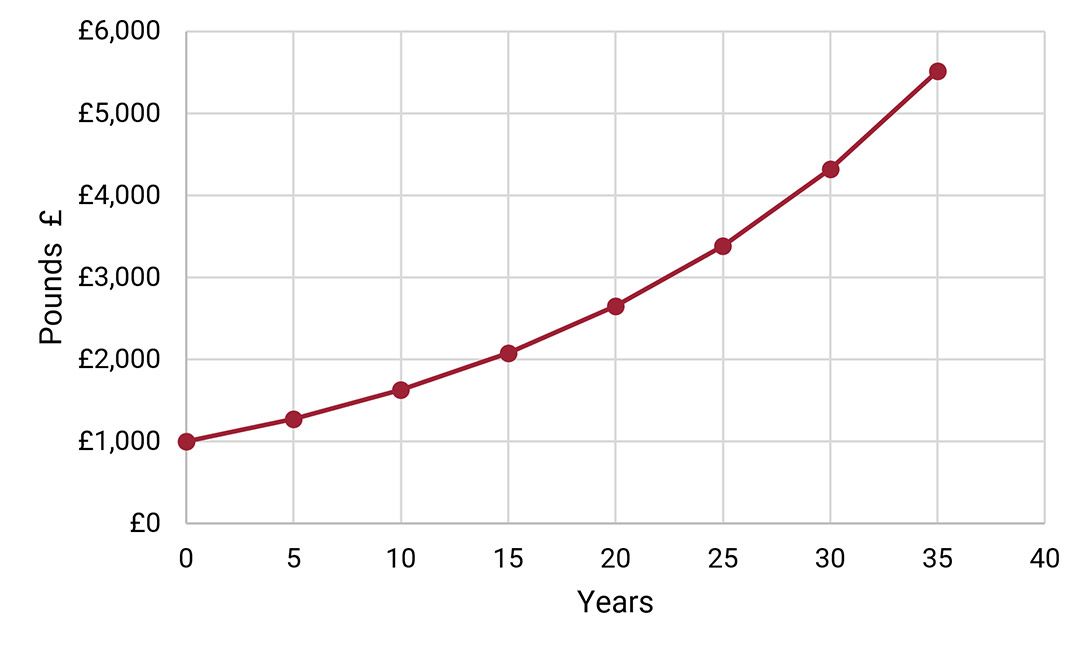 Source: Courtiers/Investor.gov. Based on an initial investment of £1,000, with dividends of 5% a year reinvested over 35 years. 
The above example illustrates the power of compounding over time, with the dividends received between years 30 to 35 (£935.59) more than three times the dividends received in the first five years, (£276.28).
Investors in Courtiers funds benefit from this compounding effect through dividends being reinvested back into the market by the Investment Team.
Q: Which Courtiers funds are the biggest dividend payers, and which companies pay high dividends?
Nyasha: Prior to the Covid-19 pandemic, the UK Income Fund and the equity portion of the Growth Fund had dividend yields of 5.91% and 5.85% respectively, making them the highest dividend payers within our funds. However the equity portion of the Balanced, Cautious and Global (ex-UK) Funds were not far off with yields of 5.02%, 4.78% and 4.76% respectively. Based on recent data, the equity portion of the Growth Fund remains the highest dividend yielding fund, although with a lower yield of 3.58%, compared to pre-pandemic levels. As for the UK Income fund, its yield of 2.66% means it ranks lowest among our funds.
Our highest yielding stocks for 2019 were Rio Tinto, BHP Group, Kumba Iron Ore, Stellantis, Centrica, and Royal Mail. When looking at the Trailing twelve months, the miners Rio Tinto, BHP Group, Kumba Iron still dominate the list and are joined by Direct Line Insurance, Persimmon and VTech. As predominantly mature and stable companies with a strong track record of paying dividends, earnings and cash flow generally held up well last year, and so they were able to support payouts.
Q: What proportion of the Courtiers Funds' returns come from dividends and what proportion from capital growth?
Nyasha: On a total return basis, the Courtiers Total Return Growth, Total Return Balanced Risk and Total Return Cautious Risk Funds returned about 22%, 16% and 10% respectively over 2019, of which the stocks held in our three funds had an average dividend yield of about 5.2%.
Q: What are the dangers in simply picking the highest-dividend paying stocks? Can you outline Courtiers' approach?
Nyasha: One of the biggest risks of taking a dividend-based approach is investing in yield traps. For instance, a high dividend yielding stock, with an unsustainably high pay-out ratio and little or negative free cash flow may signal a value trap. Such red flags can indicate that a dividend is not sustainable or lead the company to taking on excessive debt to cover the outflows. Not only does a yield trap put the dividend payments in danger, but the stock investment itself may well lose significant value if the business starts declining.
At Courtiers our fundamental based approach enables us to identify the big red flags and separate between a good and a bad investment. This means we are able to identify well managed dividend paying stocks with stable business models, quality balance sheets, stable cash flows, and at reasonable valuations.
Q: 2020 was a bad year for dividends, how were dividends affected within the Courtiers Funds?
Nyasha: By April 2020, as a result of the pandemic almost 40% of our holdings had either cancelled or suspended their dividends, although it varied across sectors and geographies. In most cases it was purely a cautionary measure to preserve cash, while for others it was due to financial pressures accelerated by the Covid-19 outbreak.
Q: What about the UK?
Nyasha: The UK was particularly badly affected with Covid-related cuts totalling a massive £39.5bn by the end of the 2020 financial year, with two thirds of companies cancelling or cutting their dividends (47% and 20% respectively) between Q2 and Q4, according to the Link Group. The worst affected sectors were finance, followed by oil, with Royal Dutch Shell cutting its dividend for the first time since the 1940s. Retail, airlines and the leisure and travel sector were also hit hard.
For the UK's listed companies it was mainly due to regulatory pressures, as the Bank of England discouraged banks from paying dividends to preserve capital and the government restricted companies using government assistance packages from paying out dividends.
Q: Was it all doom and gloom, then?
Nyasha: No, there were some bright spots with companies such as Vodafone, GlaxoSmithKline and Legal & General able to support their dividends despite the disruptions to business activities. In exceptional cases like Johnson & Johnson, the 6.3% rise in its dividends in April 2020 was the 58th consecutive year it had increased its payout.
Q: How does the situation compare now?
Nyasha: As the year progressed, the overly cautious measures in response to the Covid-19 crisis helped to shore up cash and left businesses with adequate cash to support dividend payments. This reduced the severity of the decline, as some of these companies reinstated the suspended dividends in full or at a reduced level. For example, Mondi reinstated its dividend and increased its full year dividend by 5%. As of July 2021 the situation has improved markedly with only 17% of the dividends still suspended. However, while the overall picture is undoubtedly much brighter, dividends in Q2 were still running a sixth below the level they reached in Q2 of 2019.
What is your view on future dividend payouts?
It is encouraging to see more and more company managements becoming more confident about their dividend policies. We expect 2021 to be a better year for dividend payments, although a return to pre-Covid-19 levels may not be immediate. While the vaccine rollouts provide hope of a return to normality as we once knew it, economic uncertainty remains. Priorities have also shifted for the worst hit companies, with more focus being placed on debt reduction and cash preservation to strengthen balance sheets.
If you have any questions around dividends and Courtiers Funds, please let your adviser know or "Ask a question" using the button on this page.