Following a five-year campaign driven largely by students, Cambridge University agreed this month to drop fossil fuel investments from its £3.5 billion endowment. The deadline to sell is still 10 years in the future but the investment industry has truly woken up.
Investor interest in sustainability is high and new funds have tapped into the trend. A report from Sustainable Investing shows a growth rate in sustainable funds of over 1300% over the last decade, with most of that growth coming in 2019.
ESG stands for Environmental, Social and Governance; a range of key risks and opportunities, recognised as elements of a company's long-term performance and competitiveness. ESG investing considers the potential impact of a range of company activities, seeking environmental and social good alongside good corporate governance.
Ethical Strategies vs ESG
Courtiers has managed Ethical Strategies since 2005. Are these the same as ESG? Not exactly.
Ethical investing is a style that typically excludes certain companies and industries to align with investors' ethics. We adopt a very strict ethical approach ("dark green") in our ethical strategies, excluding companies involved in:
Animal testing
Factory farming
Human rights abuse
Armaments
Environmental damage
Predatory lending
Gambling
Nuclear power
Pornography
Alcohol
Tobacco
This exclusionary strategy leads to a restricted investment universe. Resulting portfolios usually have almost no exposure to companies in the oil and gas sector or the materials and mining sectors, so there are typically periods of both out-performance and under-performance against the wider market.
ESG investing does not apply any negative screening. Instead, it looks for "good" practice within its three factors. For me, this should already be part of a robust investment process and at Courtiers it is. Of course it makes sense to look for a business that:
is operationally strong
is appropriately governed
ensures its supply chain, employees and customers are treated well
maintains appropriate health and safety procedures
offers strong labour rights
encourages strong waste management and anti-pollution practices
Such companies are more likely to stand the test of time.
Example
An ESG fund may hold investments in Rio Tinto and Astra Zeneca, large companies in the materials and pharmaceuticals sectors respectively.
Neither of these firms are held by the Courtiers Ethical Strategies due to the impact of mining and the animal testing employed in pharmaceutical businesses. However, from an ESG standpoint, Rio Tinto has adopted high standards on sustainability. It aims to leave a positive legacy from its operations and has already exited fossil fuel production, by selling its remaining coal assets.
Astra Zeneca is a healthcare company and is linked to the United Nations Sustainable Development Goals on health and wellbeing. It is operating with clear sustainability objectives, but does not pass an ethical screen.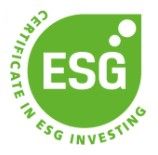 Earlier this year I received my UK Certificate in ESG Investing from the CFA UK: the first qualification of its kind in the UK.
My view is that ESG factors should already be included in strong long-term investment analysis. ESG is here to stay, but it isn't new. It has just recently been labelled and is being better communicated and marketed.
Every investor should be considering ESG factors. Ethical investing (including divesting from companies affecting climate change) is, and will remain, an exclusionary investment process that is not suitable for everyone.
Sustainable investment. Responsible investment. Impact investment. These are other investment strategies that draw on some aspects of ESG and/or ethical investing. They are all different but the lines are blurred.