Dividend payments collapsed in 2020 as companies hunkered down in response to the pandemic. With the economic output of countries like the UK above pre-pandemic levels and global economic activity continuing to grow, Financial Journalist Colin Cottell asked Courtiers Analyst Nyasha Jonhera how dividends were faring, and what she expected to see during 2022.
Q: What's happened to dividends since 2020 when there were massive cuts?
Nyasha: The peak of the 2020 Covid-19 crisis saw a massive cut in dividends, as financial and regulatory pressures led companies to either cancel or suspend dividends. 2021 recorded a strong recovery in dividend payouts, as the majority of companies either resumed, raised or declared special dividends. This recovery more than compensated for the 2020 cuts, as well as exceeding pre-pandemic levels. According to The Janus Henderson Global Dividend Index, $1.47 trillion was paid out in dividends in 2021 and this was 14.7% higher than the previous year and 1.9% higher than the pre-pandemic levels.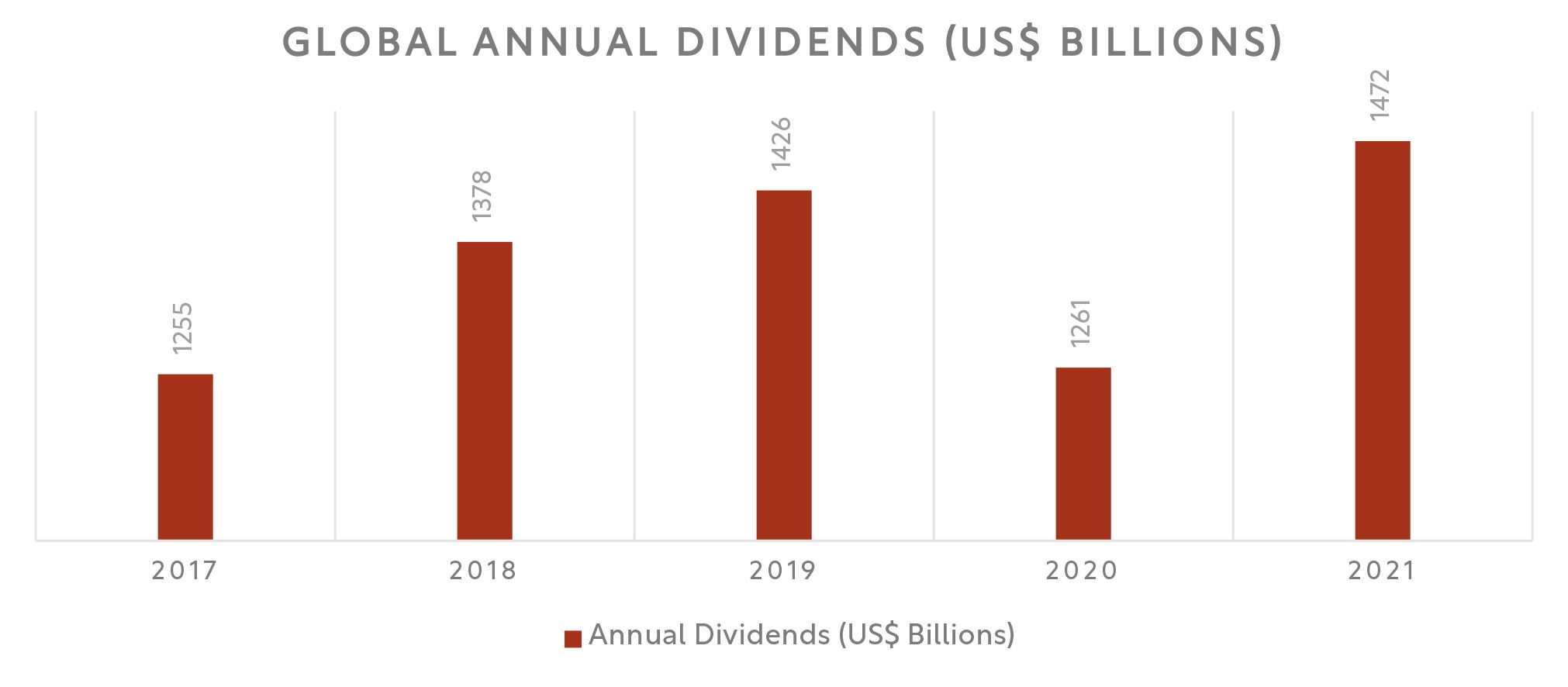 Source: Janus Henderson Global Dividend Index   January 2017 to December 2021
Q: Who were the big dividend payers? And how have investors in Courtiers Funds benefitted?
Nyasha: 11.4% of all dividends came from the 10 world's biggest payers, four of which are held in our funds – BHP Group, Rio Tinto, Samsung Electronics and Vale S.A. The dividends paid by these four companies contributed to the overall dividend yield of 3.5% on both Courtiers' Global (Ex-UK) Equity Income and UK Equity Income Funds, in the 12 months up to 30 September 2021. When received, dividends are distributed back into the funds.
UK and Australia recorded the highest growth in dividends, while from a sector perspective, miners emerged as top performers against the backdrop of soaring commodity prices. Australia was driven by the top mining companies, BHP and Rio Tinto, which Courtiers holds in some of its funds. Rio Tinto declared a record dividend of $10.40 a share for 2021, compared to $5.57 a share for 2020, while rival miner, BHP Group, also reported a record 150% growth in dividends to $3.01 in 2021. BHP's dividend payment was the world's largest mining dividend ever recorded at $12.5bn for the year. The UK market, which was one of the markets worst hit by the pandemic driven dividend cuts, enjoyed a strong recovery in 2021, lifted by the miners' special dividends and the resumed bank dividends.
Q: Any other sectors?
Nyasha: Consumer discretionary and industrials also benefitted from the recovering economy. Taylor Wimpey, one of our consumer discretionary stocks declared a bumper dividend, as demand for UK homes remained strong. With more than enough cash to cover its dividend payments, the group increased its 2021 dividend by 107% to 8.58p per share. Randstad, a recruitment firm, is one of our industrial stocks based in the Netherlands. The recruiter's board declared a total cash dividend of €5 per share for 2021, including a special cash dividend of €2.81 per share, as the demand for permanent staff placement and recruitment outsourcing business experienced a strong recovery in 2021.
Q: Apart from the UK and Australia, in which other countries did dividends increase?
Nyasha: Dividends also reached new record levels in US, China and Sweden. According to the Janus Henderson report, Financial and Health Care companies accounted for one third of the total dividends paid in the US. This was also reflected in our US stocks, as the majority of them either increased or maintained their dividend payouts throughout the Covid-19 crisis. Companies including Johnson & Johnson, and Cisco Systems, increased their dividends, while Comerica maintained its dividends throughout the pandemic. PacWest also continued to pay dividends, although at reduced levels, compared with pre-pandemic levels.
Emerging market dividends also soared to a new record, driven by the recovery in Brazil. Brazilian companies paid record dividends in 2021, led by Vale, one of our stock holdings. The Janus Henderson Index shows that Brazilian companies paid out US$25.4 billion in dividends 2021, compared to US$9.4 billion paid out in 2020. Vale accounted for a significant portion of this growth and contributed almost half of the Brazilian total dividend payments in 2021, boosted by soaring iron ore prices. This was the second largest mining dividend ever recorded, after BHP. Qualicorp, our other Brazilian stock, also raised its dividends, following a low payout in 2020. In South Africa, dividends rose to their highest level since 2014, driven by growth from the two Anglo American units, Amplats and Kumba. Kumba which is one of our stocks, increased its cash dividend for 2021 by 69% to R43.5 billion, from R26 billion prior year. Elsewhere in Asia, our South Korean stock, Samsung Electronics was also the fourth largest global dividend payer in 2021.
Q: What are you expecting to happen to dividends during 2022?
Nyasha: A forecast by Janus Henderson shows that global dividends are expected to rise by a further 5.7% to $1.52 trillion in 2022, based on the strong 2021 fourth quarter dividend figures and the expected continued recovery from the pandemic in 2022. While the record dividends paid by the mining sector in 2021 may not be repeated in 2022, other sectors, including banks and oil companies are expected to significantly contribute to dividend growth this year. As to whether this proves sustainable, with global growth set to slow, high inflation and continuing uncertainties caused by the conflict in Ukraine conflict, it remains to be seen.