"The ache for home lives in all of us. The safe place where we can go as we are and not be questioned."
Maya Angelou (1928 – 2014)
We've had so many discussions lately with our clients regarding their children or grandchildren and the property ladder that we drafted an article last week on the subject. How timely it is for the media to burst alive with news from Legal & General that if the so-called "Bank Of Mum And Dad" 'was a formal business, it would be a top 10 UK mortgage lender'.
While the news states that lending from parents will amount to £5bn in 2016, there are warnings that this caring approach faces increasing pressure in light of an increasing imbalance between house prices and wages. Our role at Courtiers has always been to assist clients in providing the most efficient contribution towards not just their futures, but their children's and grandchildren's too and navigating the mortgage and housing market is no exception.
Courtiers has guided many clients to help their children and grandchildren buy a first home since 1982 (when Courtiers found its own). How people purchase their first property now is dramatically different to how they used to, and our journey through the market over three decades has been akin to the house buying process; feelings of fear, panic, and incomparable joy. So what have we learned, and where are we now?
1970s
40 years ago when my parents purchased their first property, a large deposit was required and my mother's salary was completely ignored. Thankfully these rules relaxed over time; the farcical and archaic approach towards women's earnings diminished and the required deposit amount reduced significantly. Good news, for now…
The Late '90s
Things took a turn for the worse. The UK mortgage market began resembling the Wild West, to the point where the Magnificent 7 would have taken one look at the situation before Steve McQueen would lean across to Yul Brynner to say, 'Let's get out of here!' While this may seem somewhat dramatic, allow me to explain.
First there was self-certification. This meant as long as you had a clean credit rating, you could more or less ask for any amount you wished to borrow, as long as you accepted (with your signature of course) that you could afford to pay it back.
Mortgage providers went from requiring a large deposit to needing only a smaller 5%-10% deposit. Mortgages were offered as high as 125% loan to value. To put this in real terms, if you purchased a property for £500,000, you could self-certify the fact you can afford the repayments (ie: sign on the dotted line) and borrow up to £625,000! Great! Or was it?
2008-2012
What comes next is a familiar tale dear reader that I'm sure you have heard before; the credit crunch. First the collapse of the sub-prime mortgage market in the US which then spread systemically throughout the major financial centres across the world. Banks stopped lending to all but the most credit-worthy, and their fear of the principles of adverse selection and moral hazard increased exponentially, almost grinding lending to a halt.
A full review of the mortgage market and how it operates took place in 2009, and the resulting recommendations (finalised in 2012) led to some much needed fundamental changes in how lenders operate and what criteria are used to assess affordability, bringing us back to now.
2016
Rather than requiring just payslips to verify income, today lenders also look very closely at expenditure. This seems far more logical; take for example a person earning £4,000 per month with expenditure of £3,500. It could very well be argued that a person earning £2,500 with expenditure of £1,000 per month is in a far stronger position financially to accommodate a mortgage and repayments, but under the old style mortgage regime would have found themselves being able to borrow a far lower amount, yet arguably posing a lower risk of default.
Many people are struggling to make their way onto the property ladder. According to research conducted by Populus on behalf of the Post Office, the average age of a first time homebuyer has increased gradually by twelve years since the early 1960's from 23 to 35 in 2011, while a March 2015 Report by Shelter (Housing Affordability for First Time Buyers) observes data from the ONS showing house prices rising 48 times since 1969, compared to incomes which rose just 29 times in the same period (see Chart A below).
Chart A: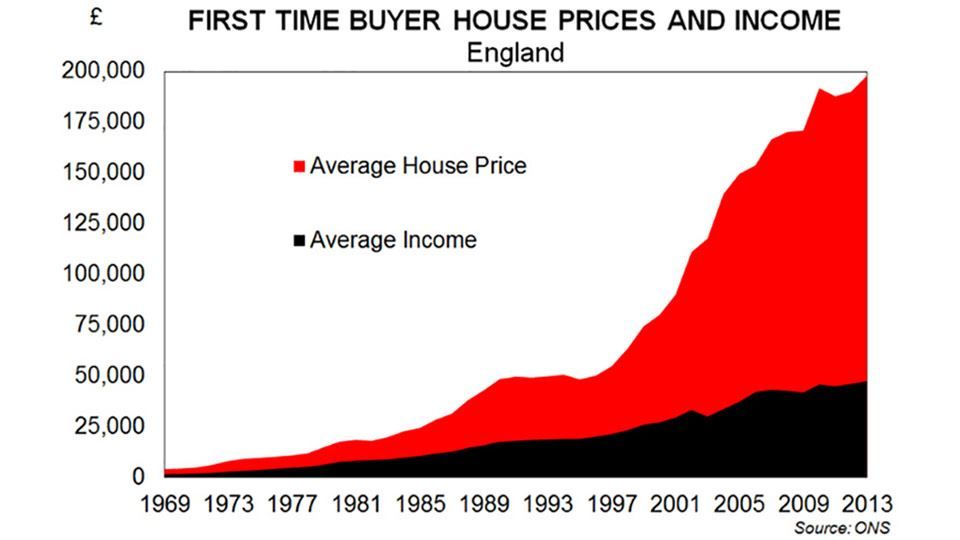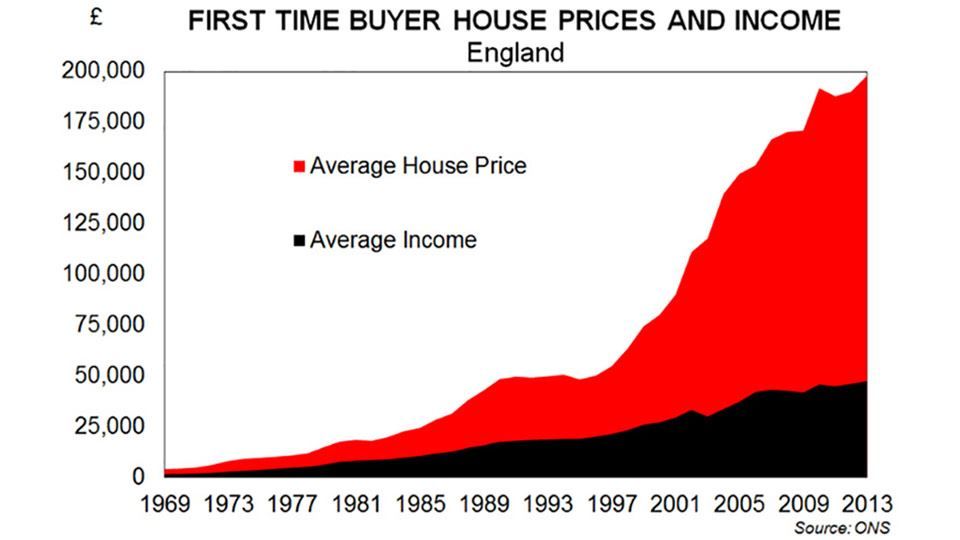 It is clearly a challenge to buy a first home in today's conditions and perhaps this is why an increasing number of clients are asking us, how might they help their children or grandchildren onto the property ladder? There are several answers to the question, all of which Courtiers is both educated and experienced in providing.
Some ways to help your next generation secure a first home can include the added benefit of mitigating inheritance tax and capital gains tax. These might involve tax-efficient savings in ISAs, regular rebasing of collective investments to utilise capital gains tax allowances, or the advantages of legislation such as "seven year gifting" whereby after seven years, gifts no longer form part of a person's estate (setting up trusts or using an investment vehicle of some kind are two ways to achieve this).
Help to buy ISAs (more information is available at www.helptobuy.gov.uk), mortgage guarantee schemes, equity loans and shared ownership are a few of a variety of schemes that can help your children and/or grandchildren onto the property ladder.
Courtiers is able to consider and communicate the most suitable options by working closely with each client to establish individual needs and objectives. We take our obligations to support our clients' financial wellbeing seriously and by listening to your goals, we can understand your long-term needs and guide you to the point where these become a reality. Our advice and guidance is not just limited to your personal aspirations, but those of your family too.
If you would like to know more about Courtiers Private Client Services, or for specific advice and guidance on passing on your wealth to future generations, please speak with your Courtiers Adviser or contact us to arrange a meeting.