Stock markets rallied strongly this morning with most European markets up more than 5%. But was this really the markets expressing joy at the election of Joe Biden, or rather a huge rally on news that Pfizer has trialled a successful Covid-19 vaccine?
It wasn't worth staying up for the US election, and it wasn't worth getting up early for the results either. As we suspected, it took a few days for Biden to get over the 270 votes needed to call himself "President Elect".  Trump's defeat may play out in slow motion with legal action and last minute executive orders but the momentum is with Biden now and he's not hanging around for Trump's concession speech.
The vaccine is the real news.  A relatively quiet morning on the markets was interrupted at 11.45am by a Pfizer press release. This chart shows the FTSE 100 index price movements. The green line indicates 11.45am and the subsequent steep rise of more than 5% is obvious.
Chart: The FTSE 100 index price movements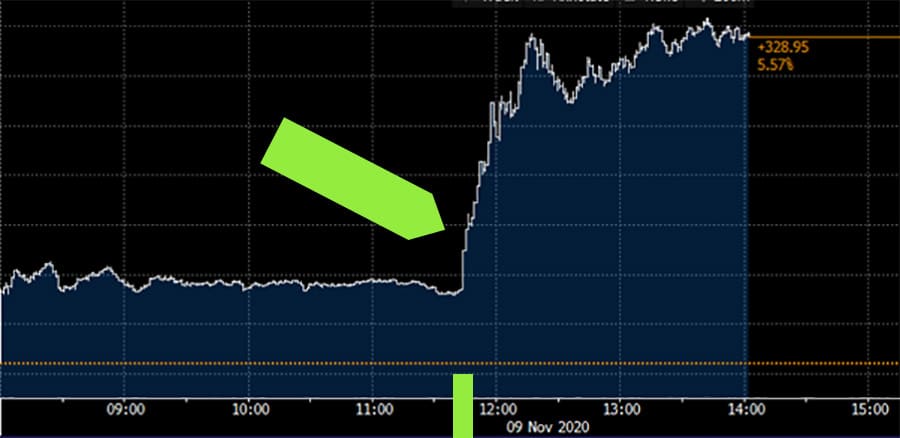 Source: Bloomberg. In UK pounds sterling. Past performance is not a reliable indicator of future returns.
Markets thrive on certainty. And hope helps. Aside from the obvious relief from a health perspective, a potential vaccine offers an end to the current global economic woes and businesses may again be able to plan, invest and develop again. What's not to like?
It's early days and there are many more hurdles to jump before that vaccine is offered on a scale that allows the return of normality. But a more definite timeline is all that is needed to empower companies, and individuals, to plan and invest. The back to normal expectation is closer today than it was yesterday and that has consequences. Whilst markets in general have risen, some individual companies have not. Shares in Zoom, a business built on virtual communications and which surely will see fewer users once we can again meet in person, have slumped more than 15% in early trading.
We hold Pfizer shares (up 14% in early trading) in our Global Equity Income fund and have exposure within our multi-asset funds. It is a good day on the markets today but a vaccine and the Joe Biden presidency are still in their infancy. We continue to be positioned for the longer term, in line with our clients' needs, and recognise that the VIX index, measuring volatility of larger companies in the US, remains well above its long term average. A bumpy ride is still ahead.