With Covid infections on the rise, many nations have resorted to stricter lockdown measures, which has resulted in equity markets wobbling. The MSCI World index, which measures global equities, fell 3% in October, pushed down by a major sell-off in the last week of the month.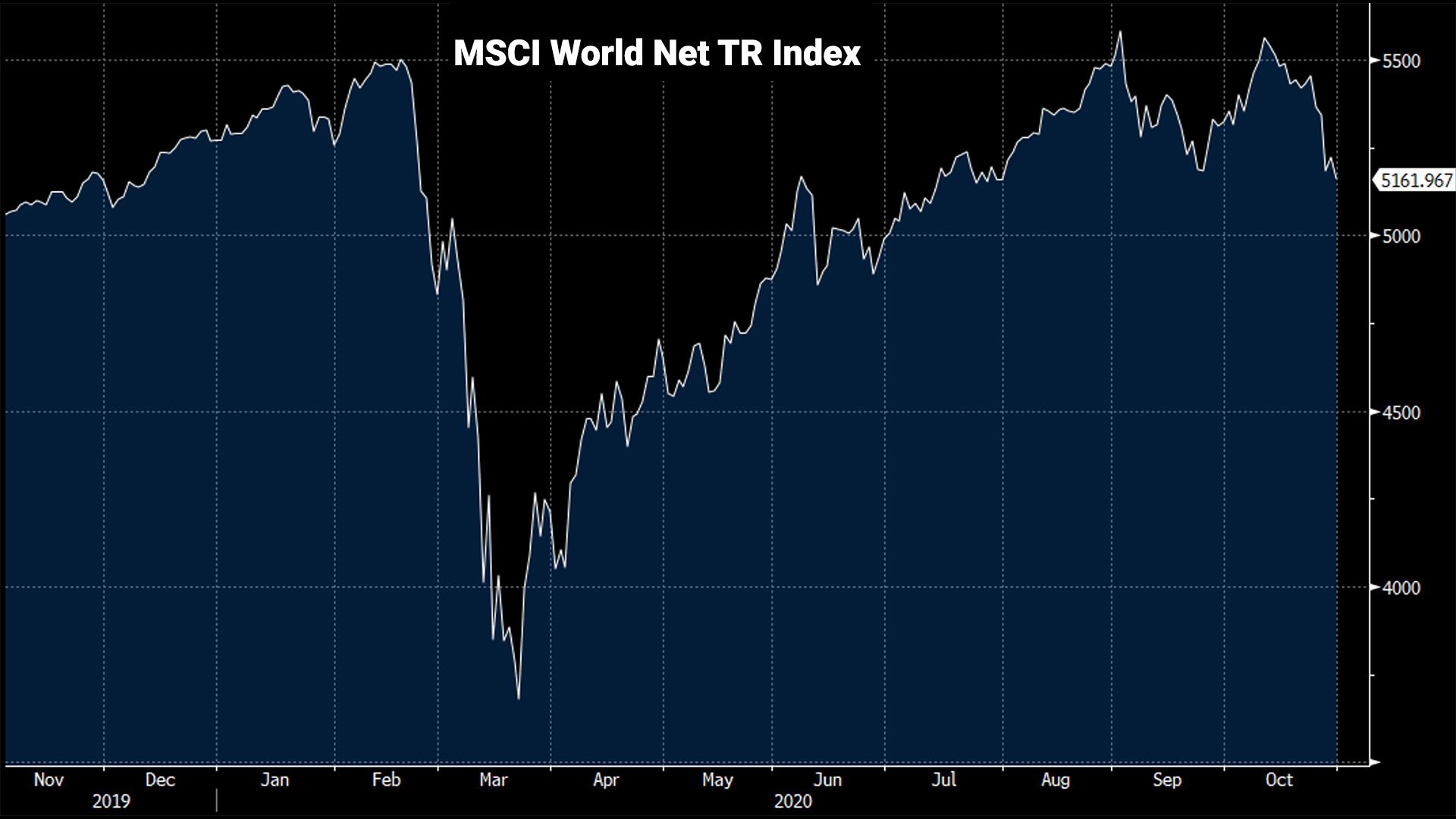 Source: Bloomberg. Based on total returns, in US dollars. Past performance is not a reliable indicator of future returns.
Last week's sell-off was particularly severe in Europe, with both France and Germany announcing new national lockdown measures. The Eurostoxx 50 index ended the month down more than 7%.
All eyes are on the US for the presidential election which is taking place today (Tuesday). Whoever wins will become the oldest US president in history – a title already held by Donald Trump. Joe Biden has been leading the polls in the run-up to the big day, but it is far from being a foregone conclusion.
A full round-up of October market performance
In the UK, the FTSE 100 index slipped -4.75%, while medium and smaller companies, measured by the FTSE 250 ex IT index and the FTSE Small Cap ex IT index, returned -1.03% and +1.89% respectively. In the US, the S&P 500 index lost -2.66% while in Europe the Eurostoxx 50 index plunged -7.29%. Japanese stocks measured by the Topix index fell -2.84%.
Emerging markets fared better during the month, with the MSCI Emerging Markets index gaining +1.51%. This was led by Chinese and Indian stocks, as the MSCI China index rose +5.16% and the IISL Nifty 50 PR index grew +3.51%. Latin American equities, measured by the MSCI Latin America index, declined -0.64%.
In the fixed income market, UK government bonds, measured by the FTSE Gilts All Stocks index, fell  -0.53% and long dated (over 15 years to maturity) gilts sank -0.97%. European corporate bonds, measured by the Markit iBoxx Euro Corporates index, put on +0.79% while sterling denominated corporate bonds, measured by the Markit iBoxx Sterling Corporates index, gathered +0.20%. In the high yield market, the Bank of America Merrill Lynch Euro High Yield index and the Bank of America Merrill Lynch Sterling High Yield index rose +0.25% and +1.13% respectively.
Commodities had a negative month. The S&P GSCI index, which consists of a basket of commodities including oil, metals and agricultural items, slumped -3.57%. The price of a crude oil futures contract plunged -10.38%. The precious metals had mixed fortunes as the S&P GSCI Gold and Silver indices returned -0.81% and +0.66% respectively. In the agricultural markets, corn and wheat delivered +5.42% and +4.36% respectively.
In the currency markets, the pound had a mixed month as it gained +0.21% against the US dollar and +0.90% versus the euro but lost -0.58% against the yen.