Reflecting on the last 12 months, a challenging period from almost every perspective, we find that our investors have benefitted from strong absolute and risk adjusted returns, in the short term and long term.
Focusing on fund performance, I can report that we are first quartile in the peer group rankings for each of the Courtiers multi-asset funds over 1, 3, 5 and 10 years and last month, we received two awards for the Courtiers Total Return Growth Fund's strong risk adjusted returns over 5 and 10 years.
The chart below illustrates returns delivered through our multi-asset funds over 12 months ending 31st March 2021, versus the average return for the respective peer group. Courtiers is standing proud…
% returns over 12 months ending 31st March 2021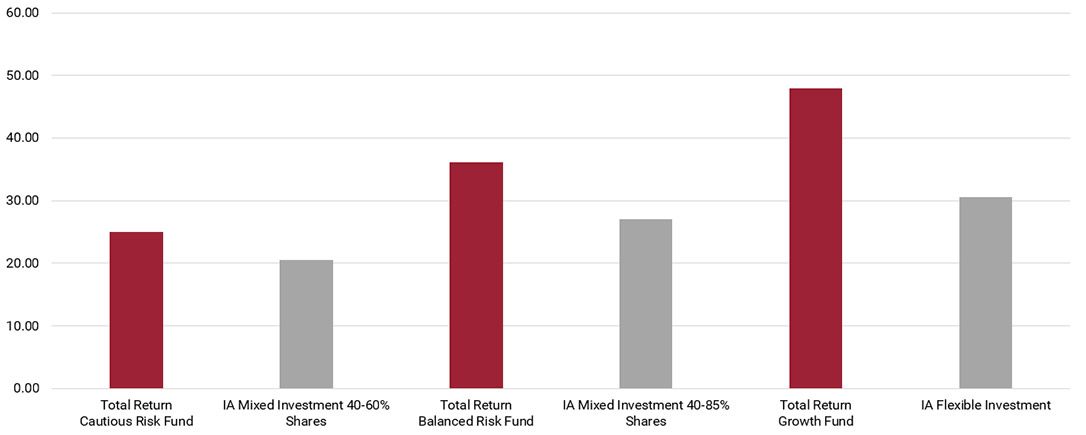 Source: Morningstar & Courtiers
Over 10 years, returns are even stronger

---

---

---
Sharpe ratios a "Holy Grail"
Sharpe ratios measure risk adjusted results and indicate whether a fund is delivering better returns per unit of risk taken than other funds. A good Sharpe ratio is the "Holy Grail" of investing. Courtiers Growth, Balanced Risk and Cautious Risk funds are all 1st quartile in their respective peer groups over 3, 5 and 10 years.
Long term performance: diversification and holding nerve
We are very pleased with the long-term returns from our multi-asset funds. We diversify our exposure globally and across different asset classes, ensuring that the combinations used work together well. We are driven to protect our client portfolios from severe downturns, yet also benefit from the market upside.
Courtiers Multi-Asset Fund Performance over 12 months
Digging deeper we are extremely pleased to see strong returns, with each fund ranking highly amongst their peers:

---

---

We now manage almost £900m across Courtiers funds, with highly qualified and experienced teams. The last 14 months have been challenging but, having managed money through several crises in the past, we were able to draw on previous experience to hold our nerve and ensure our clients were able to fully benefit from the subsequent stock market recovery.