"There is nothing permanent except change"
(Heraclitus)
We're all doomed! Well, small and micro-employers might be. That was the take away message from a piece I wrote last year concerning the automatic enrolment tsunami that was heading our way. Since then (and to torture this metaphor for just a little longer) the first waves have hit and, as predicted, they've caused a bit of bother. Insurers are struggling with demand and employers are being stung by punitive fines for non-compliance. All very predictable, sadly, but things are about to get worse. Much worse.
Last time I highlighted the terrifying spike in the number of employers reaching their staging dates for automatic enrolment by publishing the following chart from The Pensions Regulator: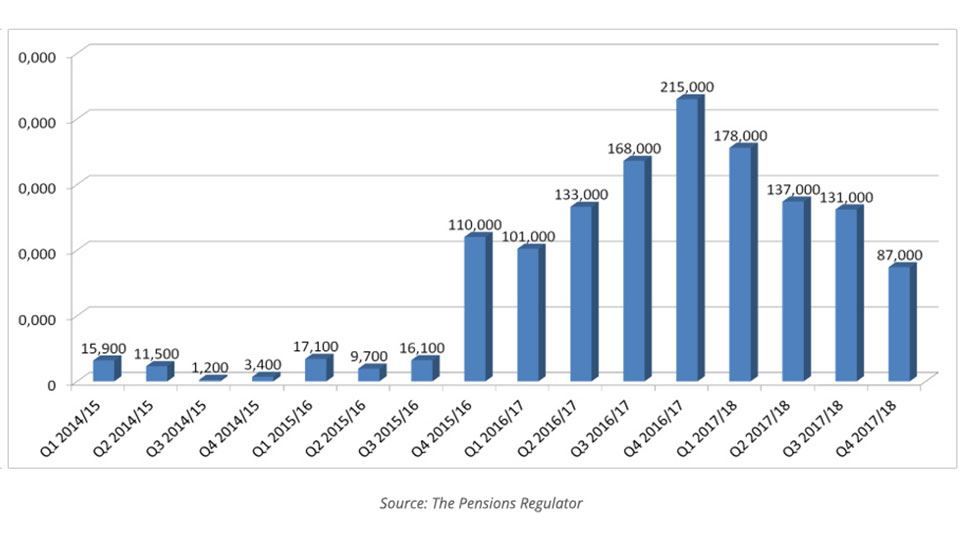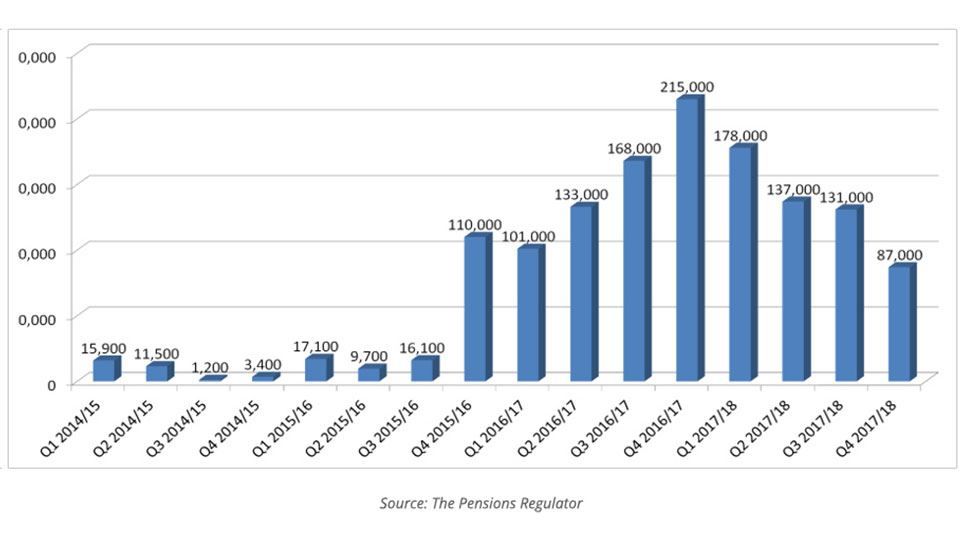 I commented that insurance companies would begin to buckle under the massive and sustained demand of the small and micro-employers and, as an aside, mentioned that bigger employers will also be starting to look around for new pensions, having been hurried into poor decisions early on. At that time I didn't appreciate how significant the latter point would be.
Research by Platforum published this week indicates that almost a third of companies that have already been through staging will be looking to switch their provider in the next 12 months. That is a colossal number, although I was more surprised to note that they are not switching for reasons of poor service, apparently. Platforum had based its research on a survey of employee benefit consultants and corporate IFAs and the reasons cited for these switches were charges (45%), past performance (25%) and reputation (18%).
This struck me as odd. Why would so many firms, who'd been through all the pain of automatic enrolment with one provider, decide after just a year or two to up sticks and go through all that pain again just to save a little cash? They wouldn't and, in any event, since insurers are now working within really tight margins due to the new pension charge cap that was introduced last year, I don't think big savings are really on offer. I suspect it is more a case of the benefit consultants looking to justify their own existence by recommending scheme switches.
In my experience, people tend to be less driven by cost and more driven by value. If you're receiving an excellent service then you don't go hunting for alternatives. Life's too short.
Had the research said that firms were looking to switch due to poor administration then I could fully get on board with that. Over the last couple of years a number of big insurers have experienced an almost cataclysmic decline in their service standards and this has certainly led to many employers looking to move their schemes away. At that point price does become important – people don't want to pay a lot for a lousy service.
So where does all this leave us?
Small firms should be worried. The 2,000 or so firms that are looking to switch pension providers in the coming year are all likely to be more attractive to the mainstream insurers than chip shops and newsagents. The very fact that they've already been through staging means that they'll have more employees and they'll have had some time to build up an existing block of pension money, both of which theoretically equate to extra revenues for the lucky new provider. Furthermore, the fact that they've already been through staging means that they ought to know what they are doing and should require less hand-holding, leading to less pressure on the insurer's scant resources. As a result we're likely to witness some unseemly scrapping over the proverbial carcasses in the coming months.
At Courtiers, we see things a little differently – when it comes to employee numbers, size isn't everything. Regardless of whether you're a big firm looking to switch because of poor service, or a small firm worried about finding a provider at short notice, we can help. We've been managing the employee benefit needs of firms of all sizes for decades and we understand that every firm is unique. In conjunction with our excellent employee benefit service, we've developed our own group pension offering that means you can bypass the larger insurers entirely and give your staff a pension that is tailored specifically to them.
If you have any questions on automatic enrolment, or employee benefits generally, get in touch.