The great growth vs value debate has been a recurring one within the investment community. Growth stocks are those that promise strong returns in the future and for which buyers are prepared to pay a premium. In contrast, value stocks are characterised by metrics, such as a low price-to-earnings ratio. They also tend to pay higher dividends.
With historically low rates of interest and subdued levels of inflation as well as the trend towards globalisation, the period since the 2008 global financial crisis provided the perfect conditions for growth stocks to prosper. Classic growth stocks, the values of which soared during this period, include Google, Amazon, Facebook (now Meta) and Netflix.
As Dario Perkins, an economist at TS Lombard puts it; "When investors expect rates to stay chronically low, they will place a higher value on companies (and investment projects) that promise strong returns in the future, even if those returns are a long way off."
Despite the popularity of growth as an investing style, proponents of the value style of investing never went away. Even as growth stocks gained ground, Courtiers never wavered in its value approach, one that can be traced back to the ideas of Benjamin Graham in the 1930s. Value investing also has sound empirical underpinnings, with research by renowned academics Fama & French showing how, since the end of the Second World War, value stocks have outperformed their growth counterparts.
After several false dawns when it appeared that the much-anticipated great rotation to value stocks had finally arrived, Jake Reynolds, Courtiers Head of Asset Management, believes we may be about to enter a period when value stocks are back in vogue and the value style of investing comes once again to the fore.
"The last time we saw such a deviation between the most expensive and the best value stocks, on a global scale value outperformed growth and the benchmark for 7 years in a row. In the UK it did it for 6 years."
Jake references data (see Chart 1) to suggest that far from a permanent state of affairs, the period since the 2008 global financial crisis has been somewhat of an anomaly. As he puts it; "Until the last ten years, value outperformed growth." Yes, during this period growth stocks did well relative to value stocks, with the pandemic and lockdowns driving up valuations to what we were calling 'hellishly expensive." But far from being a permanent sea change, this was merely a blip, he suggests – a brief interruption in the long-term outperformance of value stocks against growth stocks. Jake contends that in 2021 normal service began to resume.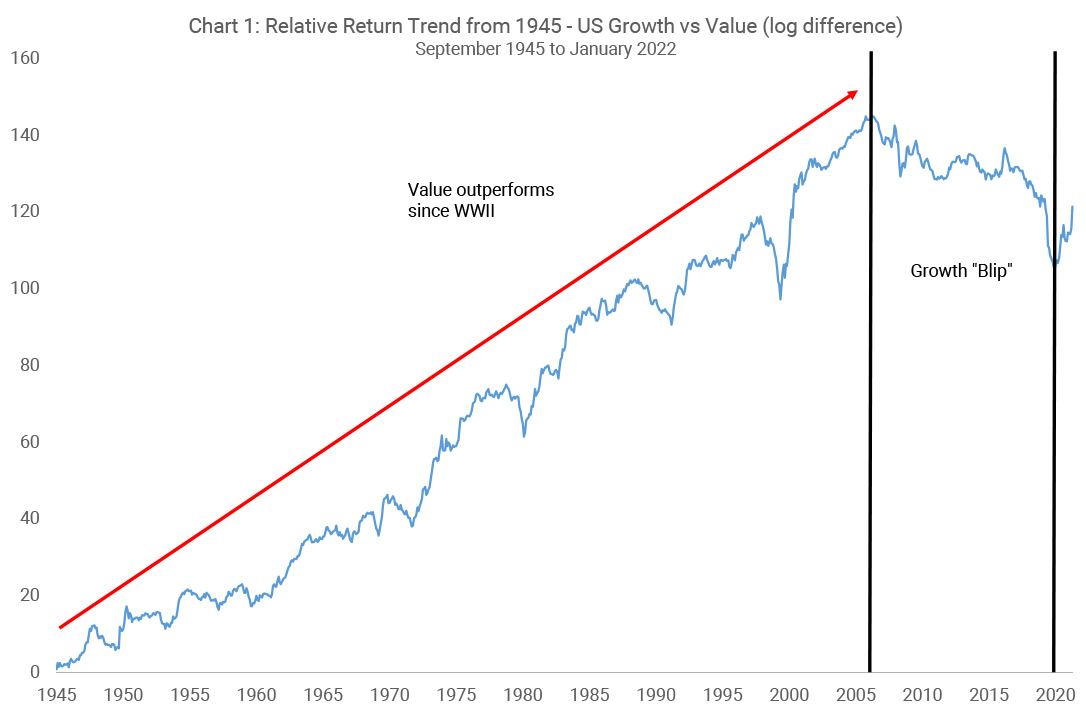 Source: Fama & French
To back up his case, Jake points to the recent performance of the Nasdaq Composite Index, made up of 3,000 mainly US tech stocks. Since 2021 the percentage of Nasdaq stocks that have fallen in value by 50% has risen sharply and is now approaching 50% (Chart 2), suggesting that investors are no longer prepared to pay the sort of valuations these stocks previously enjoyed.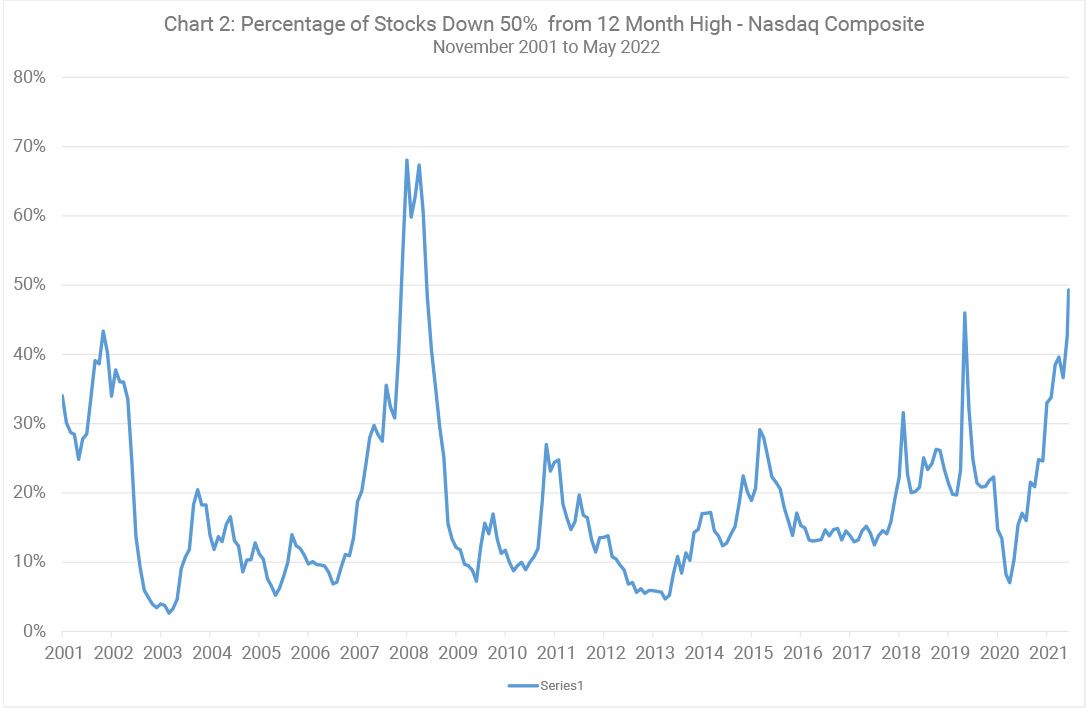 Source: Portfolio123/Courtiers
"We've discussed the risks of overpaying for equities a lot over the last few years. We positioned the portfolio to minimise overvaluation risks and rising interest rate risk. Many of the scenarios we warned about have now come to fruition."
Even the seemingly irreversible growth in online sales isn't set in stone, says Jake, citing figures from the ONS showing that after spiking during the pandemic, the growth in UK online sales is now in decline (see Chart 3).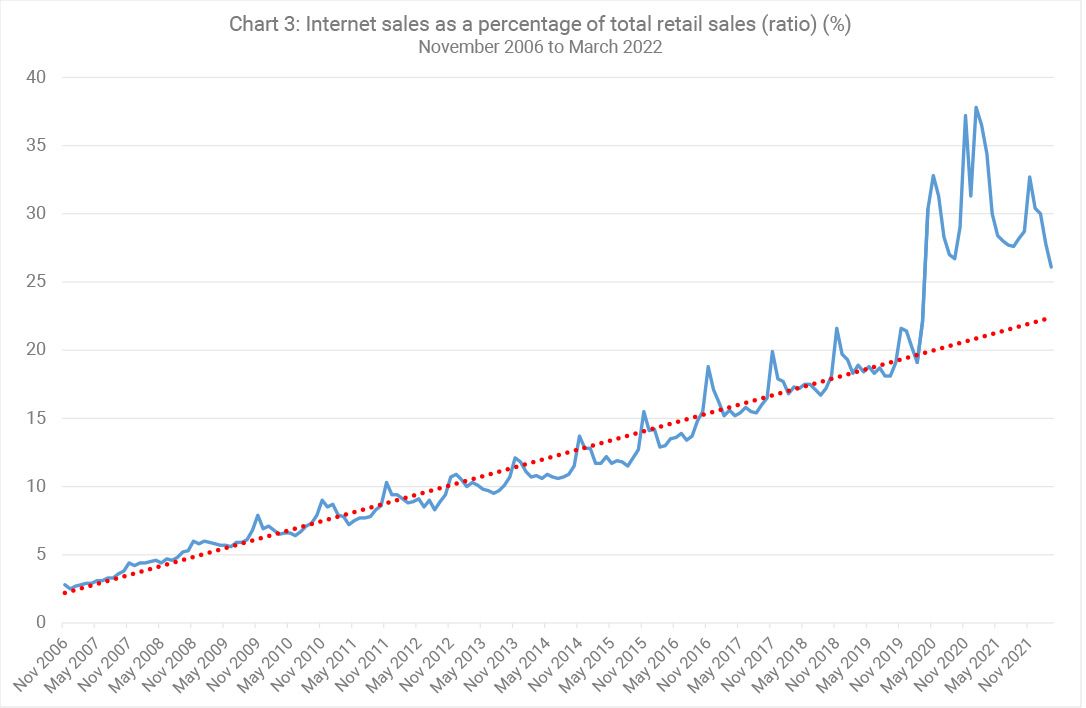 Source: ONS/Courtiers
If Jake's right, and we are indeed about to enter a period when growth stocks lose their lustre, what does it say about the types of stocks that will prosper?
"We think that the winners to emerge out of the chaos of the last two years will be companies that make money today rather than at some non-determinant date in the future; those that sit on real assets, and those that have a current competitive advantage. This is to do with normalising inflation and rising interest rates but also we've found fantastic entry levels into these positions as they were trading at deep discounts to the rest of the market."
While there are indications that we're moving into an environment when value reasserts itself, only time will tell whether this comes to pass. Whatever happens, the growth versus value debate will run and run.