With the second wave of the Covid-19 pandemic well underway, further lockdowns look inevitable. They've already been announced in France, with a more diluted version in Germany ('lockdown light') effective from November 2.
It also appears that western democracies were for some reason unable to learn from their Asian counterparts, who, probably due to their earlier experiences with MERS and SARS, generally handled this crisis far better than us.
It would be nice to report that the UK had at least outperformed other western economies, but this is not the case. Amongst developed nations, our country's been hit harder than most. This was highlighted recently in an excellent piece by Dario Perkins, Managing Director of Global Macro at Economic research specialist TS Lombard, when writing about the economy. Dario produced a chart (below) showing the relationship between economic performance and Covid-19 mortality rates during the first half of 2020:
Chart A – Economic Performance against Covid-19 Mortality Rates by Country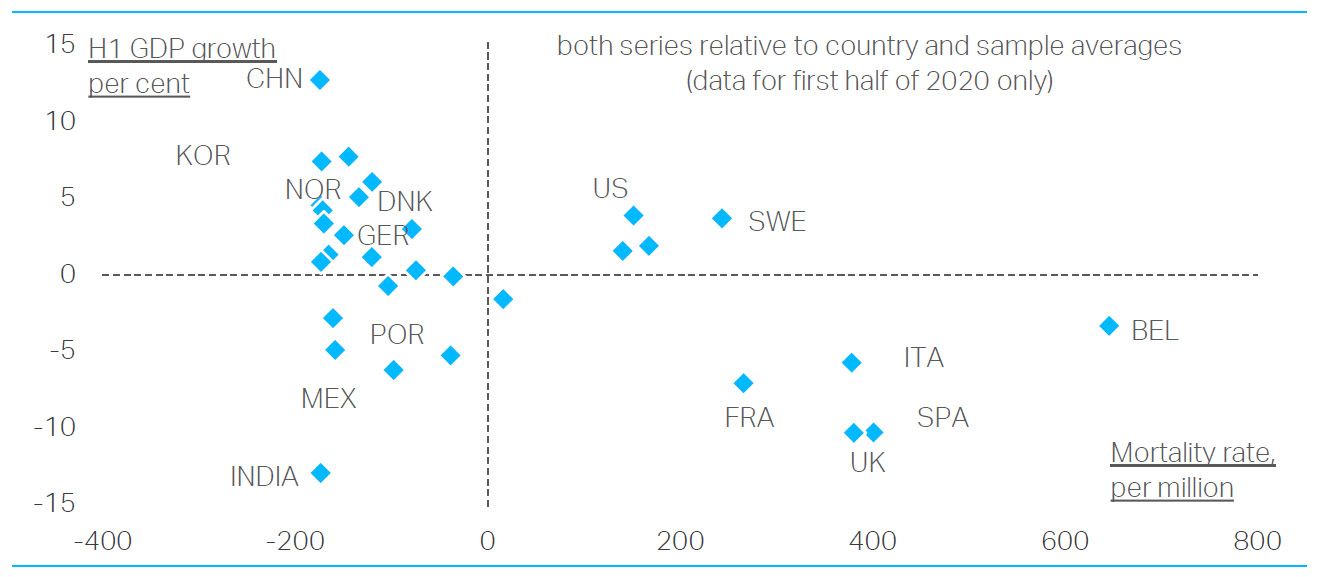 Source: Organisation for Economic Co-operation and Development  (OECD), Datastream, TS Lombard
The best performers are in the top left quadrant of the chart and include Germany, Korea, Norway and Denmark. This group suffered less impact economically and ran a lower Covid-19 mortality rate. Those in the bottom right quadrant had the worst of both worlds, i.e.: a devastating economic recession coupled with higher mortality rates. Sadly, this is where we find the UK.
The UK economy did recover quickly in the summer, as recently highlighted by the Bank of England. Our rapid rollout of the furlough scheme, and other means of support, are undoubtedly a large part of the reason for this success. Current government spending has been immense in helping to keep the country stable. As for the potential impacts down the line among future generations, I will be considering this in another piece soon.
As Boris Johnson's beleaguered government will be keen to avoid further damage to the UK economy, our Prime Minister may try to resist a full lockdown, or at least keep it to a short 'circuit breaker'.
A cure gaining momentum
Approval of one or more vaccines in the later stages of trial periods would provide a much-needed boost all round. Widely distributed among the population, a vaccine would start helping to protect people, who in turn can confidently return to a norm of sorts and help the economy bounce back.
These are grounds for hope. Pfizer is expecting to receive approval on its vaccine by the end of next month and begin distribution before the end of 2020. The AstraZeneca/Oxford University project also seems to be progressing well. Furthermore, other pharmaceutical businesses and health institutions will be striving to get a vaccine released pronto.
I've said this before: what is so unusual about this recession is that it has occurred entirely because we locked our economy down completely. But as was shown in the summer, the UK bounced back alive and kicking, and there's no reason to believe that, once restrictions end, the economy will not spring to life once again.
In the meantime, we must negotiate the second wave of Covid-19 infections, just like our ancestors of old living through past pandemics. Modern technology may spare us the normal third wave, which would be expected sometime around spring 2021. If this happens to be the case, which would likely be entirely due to a vaccine, rather than government innovation, then next year may prove a glorious light at the end of a pretty dark and dismal tunnel.
Investment values have been wobbling all year, and will continue to wobble through the winter. If a breakthrough vaccine shortens this pandemic, share prices will respond positively. In the interim, we are extensively sifting expensive stocks and seeking out those that are good value. There are lots of opportunities outside of the hellishly expensive tech giants.