This time last year most of us had never heard of a "Coronavirus". In the UK, the subject of pandemics was on very few people's radars.
If I'd been able to look into a crystal ball last November and see the world experiencing the worst pandemic since 1918, and our GDP shrinking by -11.3%, I would have been terrified.
If I'd then seen Courtiers' multi asset funds posting positive returns during the period, I would have been incredulous, but this is exactly what's happening, despite many markets around the world struggling.
Performance
The US equity market has been the star performer over the last twelve months. It plunged -34% between 19th February and 23rd March. It then staged a remarkable 62% recovery, exceeding the wildest of expectations. At the other end of the scale, the FTSE 100 has struggled, losing -10.92% in the year (see below chart). Why is there such a huge discrepancy in 12-month returns between these two major indices? There are two main reasons for this:-
Technology and communications have been the best performing sectors over the last twelve months. Between 31st December 2019 and 25th November 2020, the US 'Big Five' (Amazon, Apple, Facebook, Google and Microsoft) rose by an average of 46.4%. The major sector in the FTSE 100 is financials, which have had a torrid time.
The UK has had to deal with the uncertainty surrounding Brexit.
% Returns in GDP: 26th November 2019 to 25th November 2020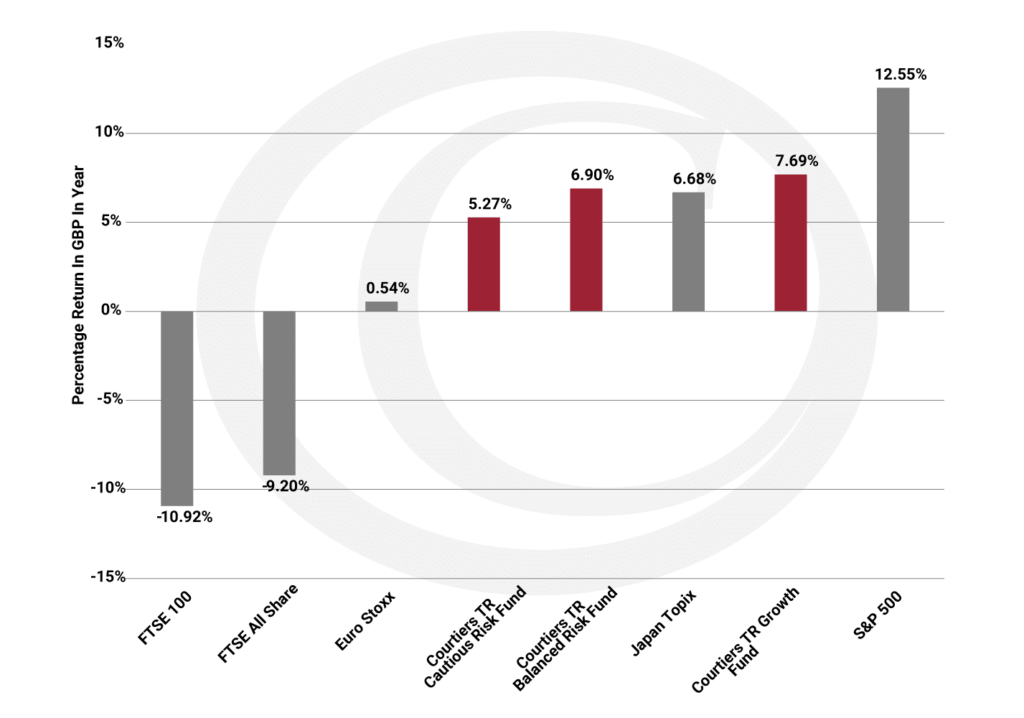 Source: Bloomberg. The returns from the Indices, and funds, allow for the net reivestment of dividends and income. Returns are shown in GBP (pounds sterling) so allow for changes in exchange rates. Past performance is not a guide for future returns.
It's always important for investors to hold their nerve and concentrate on the facts, but you could argue that it was especially important in 2020. Act in haste and repent at leisure, as they say.
Those that headed for the exit in late March missed one of the best short-term recoveries in history, which just shows that when you're talking about risk, it applies to being out of the market as well as in it.
This hasn't been an easy period and I would be a liar if I said I didn't have any reservations when we were buying into a falling market through March this year. But by mid-April, I was mightily relieved that we had and I was equally pleased that we had no cause, at any time through this pandemic, to fear that any of our holdings would go bust.
I always tell analysts starting out on their career that "no" will make more money in the long run than "yes". In the field of asset management, results are more influenced by what you reject than what you buy. We have stayed well away from companies with weak balance sheets.
We'll be covering performance and a range of other topics during our Virtual Client Seminar next Friday, 4th December.
I'm bitterly disappointed that I will not get to see our investors in person, but I am pleased that we can hold the event "virtually", something which, pre the first lockdown, I would never have entertained. Since then, I've become reasonably proficient with the technology. In economic parlance, I have upgraded my 'intellectual capital', which put in the vernacular simply means, you can teach an old dog new tricks. I look forward to demonstrating this old dog's newfound skills next week – fingers crossed!