23rd March 2021 marked the anniversary of both the UK's first national lockdown and the bottom of the equity market. The recovery over the last year has been extraordinary, with global equities not only recovering from the 32% crash, but also going on to reach new highs.
The below chart shows the MSCI World Net Total Return index in local currencies from the start of 2020 to the end of March 2021: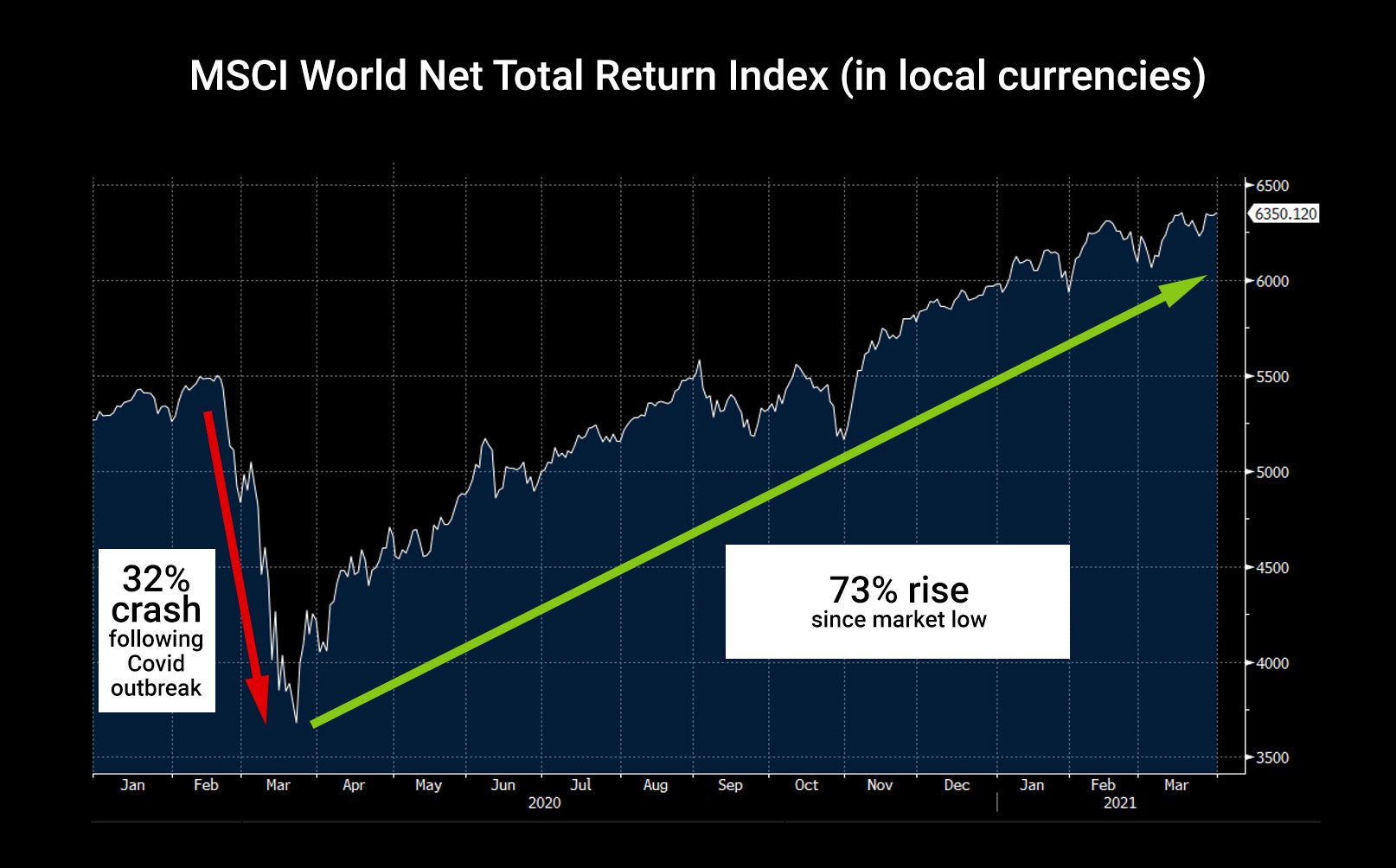 Source: Bloomberg & Courtiers. Chart shows total return of index from 31st December 2019 to 31st March 2021. Returns are in local currencies and the return in sterling may increase or decrease as a result of currency fluctuations. Past performance is not a reliable indicator of future returns.
---
Full round-up of March market performance
In the UK, the FTSE 100 index gained 4.16%, while medium and smaller companies, measured by the FTSE 250 ex IT index and the FTSE Small Cap ex IT index respectively, rose 3.29% and 6.80% respectively.
In the US, the S&P 500 index climbed 4.38% in USD while in Europe the Eurostoxx 50 index surged 7.91% in euros. Japanese stocks measured by the Topix index gained 5.71% in yen.
Emerging markets underperformed developed markets during the month, with the MSCI Emerging Markets index slipping 0.85% in local currencies. This was led by the losses in China, as the MSCI China index slumped 6.02% in Chinese yuan.
Indian stocks, measured by the Nifty 50 PR index, crept up 1.11% in Indian rupee while Latin American equities, measured by the MSCI Latin America local currency index, gathered 4.88%.
In the fixed income market, UK government bonds, measured by the FTSE Gilts All Stocks index, were flat on +0.01%. Long dated (over 15 years to maturity) gilts also moved just +0.01%.
Sterling denominated corporate bonds, measured by the Markit iBoxx Sterling Corporates index, dropped 0.18%. In the high yield market, the Bank of America Merrill Lynch Sterling High Yield index picked up 0.22%.
Commodities had a negative month overall. The S&P GSCI index, which consists of a basket of commodities including oil, metals and agricultural items, declined -2.15% in USD. The dollar price of a crude oil futures contract fell -3.54%. The precious metals both suffered losses as the S&P GSCI Gold and Silver indices conceded 0.92% and 7.91% in USD respectively. In the agricultural markets, corn and wheat returned +2.97% and -6.06% in USD respectively.
In the currency markets, the pound had a mixed month as it declined 1.08% against the US dollar but appreciated 1.82% versus the euro and 2.82% against the yen.