Losing a child is one of the most awful experiences any parent can go through. So, when Aimee Day, who worked for Courtiers as a member of the Front of House Team between September 2013 and December 2016 and her husband Chris lost their son Elliott aged just five in December last year, they were understandably distraught.
After a brave fight, Elliott fell victim to rhabdomyosarcoma, a relatively rare cancer that particularly affects children. Despite still grieving Elliott's loss, Aimee and Chris have dedicated themselves to doing all they can to ensure that what Elliott went through won't happen to other children and their parents and families.
"My gut instinct is I don't want it happening to anybody else. So, although I can't help Elliott anymore, perhaps we can help other children and other families to ultimately find a cure," says Aimee.
In February, Aimee and Chris visited Sacred Heart Catholic Primary School in Henley-on-Thames where Elliott was a pupil, to launch Elliott's Arc, a fundraising initiative that in honouring Elliott and telling his story aims to help fund much needed research.
Elliott's Arc is the 18th in a network of Arcs across England and Northern Ireland, which together form Alice's Arc, a charity made up of a community of families, scientists and doctors dedicated to funding this needed research into rhabdomyosarcoma. Rhabdomyosarcoma like childhood cancers generally has been under researched compared to cancers more prevalent among adults.
60-70 children are diagnosed with rhabdomyosarcoma every year, accounting for 5% of UK childhood cancer cases. With a survival rate of 8-20% upon relapse, childhood cancer is the number one cause of death in children under 14 years old. In December 2022 alone, Alice's Arc heard from five families in the UK after their children had sadly died from the disease.
"We want to make sure the world knows Elliott's story because he was a very brave boy," says Chris. "Despite all the terrible things that were happening to him he was bright and fun loving and caring, and someone who thought about the other kids on the wards while he was being treated." Before suffering a relapse Elliott received care and support at both the John Radcliffe and Royal Berkshire Hospitals.

Elliott's Arc was launched with £10,000, the sum of donations left over from a JustGiving campaign launched by Aimee's cousin Katrina Minoletti, to give Elliott some magical experiences during his illness. Since then, the total amount raised has risen to £13,525 with the money going to support the work done by Alice's Arc to better understand the disease, find kinder and more effective treatments and ultimately discover a cure. "With all the advances in science and technology coming along in leaps and bounds in other fields, children shouldn't be getting this disease and dying from it," says Chris.
After hearing Elliott's story and learning of Aimee and Chris's efforts to combat rhabdomyosarcoma, employees from Courtiers were moved to donate £2,500 to Elliott's Arc, money which will be used by Alice's Arc to continue its vital work. CEO Jamie Shepperd says, "Elliott was very brave, as are Aimee and Chris to look on life so positively, saying they were so lucky and blessed to have Elliott for 5 years in their lives. There really is nothing you can say or do, but hopefully our donation can help children and families in the future in Elliott's memory."
Despite both holding down full-time jobs, Aimee and Chris are stepping up their efforts to raise money and have set a target of £50,000.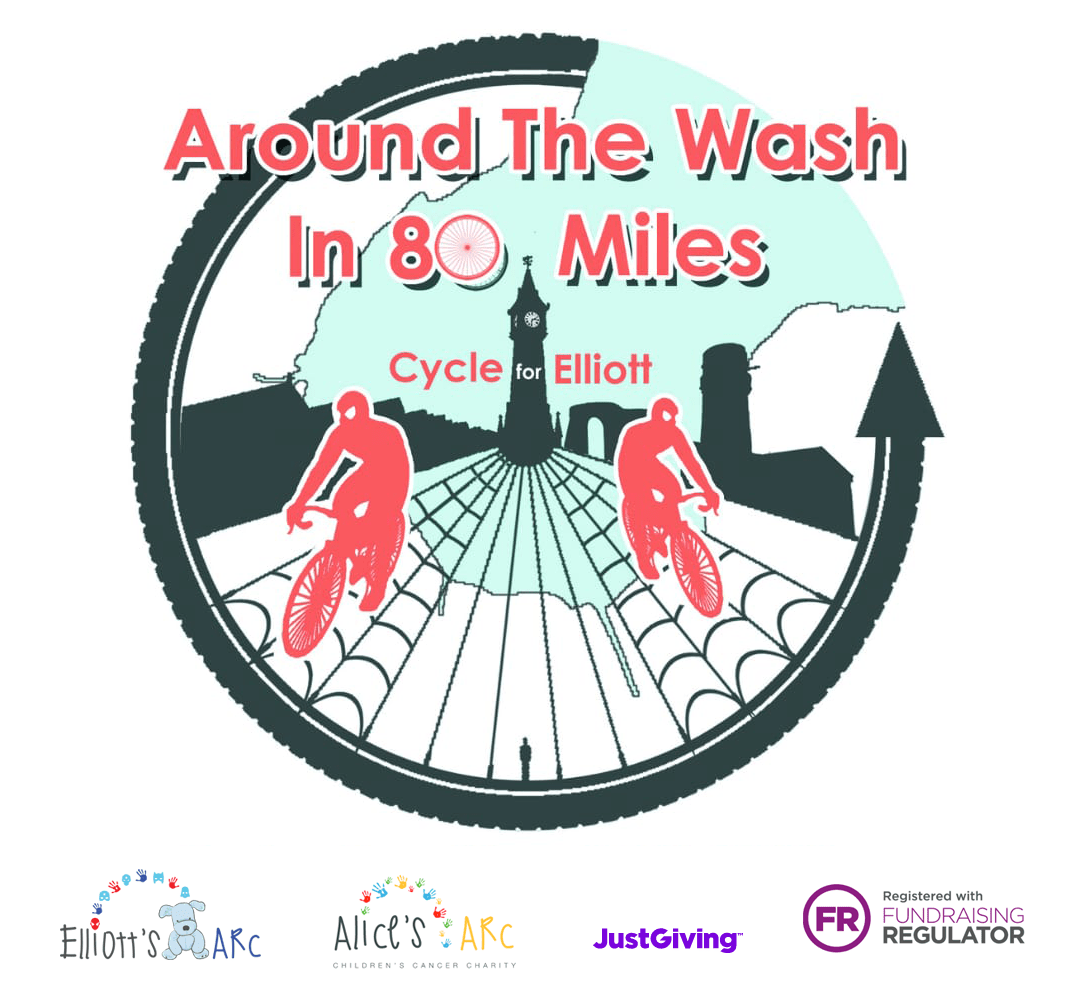 In May, a special cycle ride's planned between Chapel St Leonards Beach in Lincolnshire and Old Hunstanton Beach in Norfolk, both places that Elliott loved. A special JustGiving Page has been launched.
Around The Wash In 80 Miles – the ride in which Chris and Elliott's uncle Gareth will be dressed as Spiderman, Elliott's hero, will be done anti-clockwise to represent turning back the clock to when Elliott was well.
Aimee and Chris have created a Facebook page, where Chris and Gareth can share updates and photos of their ride Around the Wash. In time, it'll also feature news about fundraising activities which are in the process of being planned. Friends and supporters are coming up with their own ways to boost the amount raised too, one example being Chris's sister's friend, who is selling Easter Peter Rabbits, which she has crocheted. Other fundraising events are under consideration for later in the year.
Aimee says hitting the £50,000 target would be "brilliant". It would pay the salary of a post doctorate or post PhD student researching rhabdomyosarcoma for a year, for example.
All told there are seven research projects currently being funded by Alice's Arc in the UK. Among these, Chris says is a project on liquid biopsies that's moving to the clinical testing stage of its testing as well as two projects at the University of Birmingham.
Despite all the great work going on, Chris says there is a need for new thinking and new ideas, and this can only be achieved if funding can be found to support post doctorate and post PhD students dedicated to studying rhabdomyosarcoma. "Without the research, for a lot of children this cancer is basically a death sentence and that's not the way to live."
Aimee says she's "encouraged" by what Alice's Arc is doing and confident that the money's going to the right place. "Ultimately", she says "it would just be amazing to find a cure for this and to know that we've helped." Everyone at Courtiers will share those sentiments and wish Aimee and Chris well.
Elliott's Arc has its own dedicated web page, where donations can be made.