Forrest's Gump's mama always said, "Life's like a box of chocolates. You never know what you're gonna get". These days we know we're going to get scammers, and scammers are like a bowl of French fries. You have to take them with a pinch of salt.
Phone calls, video, email, text message, photo, attachment, digital documents, statements and receipts. We're in an age where digital communication is prolific and modern life feels convenient.
Fraud is a worldwide problem amid a plethora of communication streams and misinformation. Connecting remotely with others leaves us susceptible to a global network of thieves. How are we supposed to protect ourselves 24/7 from dangers posed by these incessant opportunists?
Online? On guard!
I'm one of many who is connected to the world wide web via smartphone, smartwatch, tablet and various computers. I'm comfortable assuming scammers could contact me at any time. Vigilance in this respect is like car insurance: I'd rather not have to worry about it at all, but if trouble comes my way, I'm protected.
Engaging with a proposition? Be 100% certain
There are many, many warnings out there about the various types of scams and ways to avoid them.
All the scams you may ever experience in life will have one common ingredient: you.
If an unexpected proposition comes your way that sounds compelling but you aren't sure, break away from the initial communication and do your own research, by your own means or with the help of someone you trust. Through research, you may find that an unexpected proposition just doesn't add up. If it's genuine, you ought to be able to find an easy way to enquire directly with the company in question using verified contact details. Furthermore, if the company supposedly offering the product or service isn't aware of the proposition you describe, you could find yourself helpfully reporting a case of fraud / suspicious activity and protecting others that might have otherwise suffered in future.
Is that really you?
In the current climate, scammers are posing as the government, NHS, HMRC, travel agents, banks, pensions providers, claims management companies and anything else they can get away with. They're offering everything from testing kits, PPE, refunds, grants, loans and pay-outs. Scammers will go to great lengths to manipulate people and it all comes back to two simple rules: take the proposition with a pinch of salt – and do your homework. Again, this could mean researching yourself or working with somebody you trust.
Copycats
Beware of cloned companies. Scammers don't care about copyright law. If you recognise the company approaching you, it doesn't mean it's really them. Company logos and graphic styles can be copied and with smarter technology and software, fraudsters are improving their design skills to copy brands in more elaborate and convincing ways. They can produce convincing marketing documentation and application forms, taking logos, fonts and imagery from a company's official website or other legitimate sources. Some scammers might combine a company's details with email addresses and telephone numbers which appear similar, but aren't actually the same. It's important to either check everything thoroughly, or give it no time at all.
You aren't alone
Courtiers is familiar with helping clients clarify whether calls or items of correspondence might be real or not. It's become part of protecting wealth in a modern age.
In a connected world, help is close to hand. If you're ever unsure about something, ask us.
Are you "scam-savvy"?
Take Five – To Stop Fraud is a national campaign from UK Finance and HM Government which aims to help raise awareness and educate people in identifying fraudulent activity.
Amongst other useful resources there's a quiz on the website homepage, comprising nine 'yes or no' questions. I just took it and got 7 out of 9, admittedly answering one question hastily which I got wrong. Let that be a lesson.
If you'd like to have a go, visit the Take Five to Stop Fraud website and scroll down to find the quiz.
https://takefive-stopfraud.org.uk/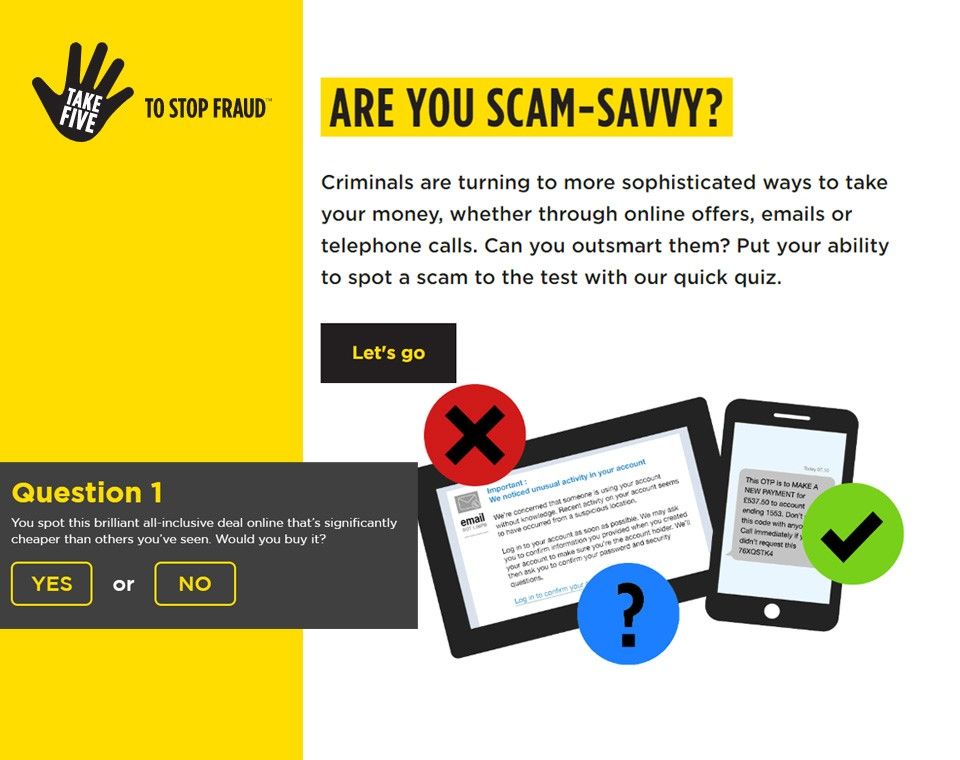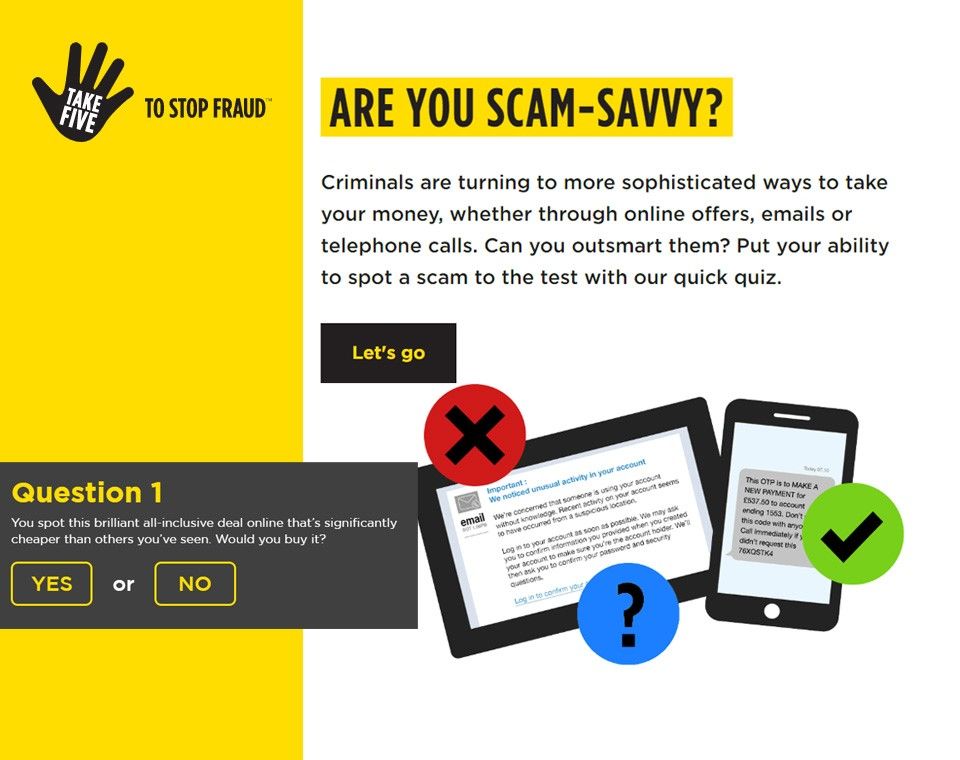 Image source: Take Five – To Stop Fraud – https://takefive-stopfraud.org.uk/