After taking over Paragon's sponsorship of Badgemore Park at the end of April last year, Courtiers was keen to continue and build on the work done by Paragon to support a local club with a clear interest in the wellbeing of its local community.
Earlier in June, Courtiers sponsored the club's Open Anniversary Weekend, a team tournament, which raises money to fund improvements in and around the club, with some of the money raised also going to charity.
Courtiers recognises that support for charities and good causes is close to the hearts of Badgemore Park members, so it is particularly pleased to support the 3 Charities Longest Day Challenge due to take place on June 21 at the club, which is located on the outskirts of Henley-on-Thames in Oxfordshire.
The Longest Day Challenge is the brainchild of former men's club captain Dave Haddock. Back in 2017, Dave decided to take advantage of the longest day of the year by setting himself the challenge of playing as many holes as possible and asking club members, friends, and family to sponsor him to raise money for charity.
Despite it being the hottest June day since 1976, Dave completed an incredible 101 holes. Beginning at 04.45, by the time he had finished late in the evening he had played 447 shots and walked around 28 miles.
In the process he raised £3,300 in sponsorship for his captain's charity The Chiltern Centre, which helps young people aged 18-30 gain valuable social and life skills. "It was a bit of a trek," says Dave modestly, adding that but for the effects of the heat he could have gone even further. "Physically I was fine, no aches and pains but mentally I was shot, the heat got to me."
Assuming there is no repeat of the 2017 heatwave, this year Dave plans to go even further. "I am just going to go out and see how far I get," he says. Apart from being five years older, with "a few more aches and pains" the big difference is that while in 2017 only one charity benefitted, this year the money raised will also go to the men's captain's charity Maggie's, who provide cancer support and the ladies' captain's charity Natasha Allergy Research Foundation. "Raising money for charities is the only reason I am doing it," said Dave, which is why Courtiers is delighted to be sponsoring his efforts.
Leo Hallam, Courtiers Head of Brand & Communication, said; "To hear of Dave's ambition through our relationship with Badgemore Park was uplifting, and Courtiers is more than happy to join in supporting his efforts on 21 June. Raising money for three charities through what sounds like quite a task is commendable.
"Seeing Badgemore Park and its members backing Dave only strengthens our view that Badgemore Park is a fitting corporate partner and part of a genuinely caring community. Courtiers wishes Dave all the best and looks forward to hearing how he gets on."
---
Update 29/06: Dave smashes target out of the park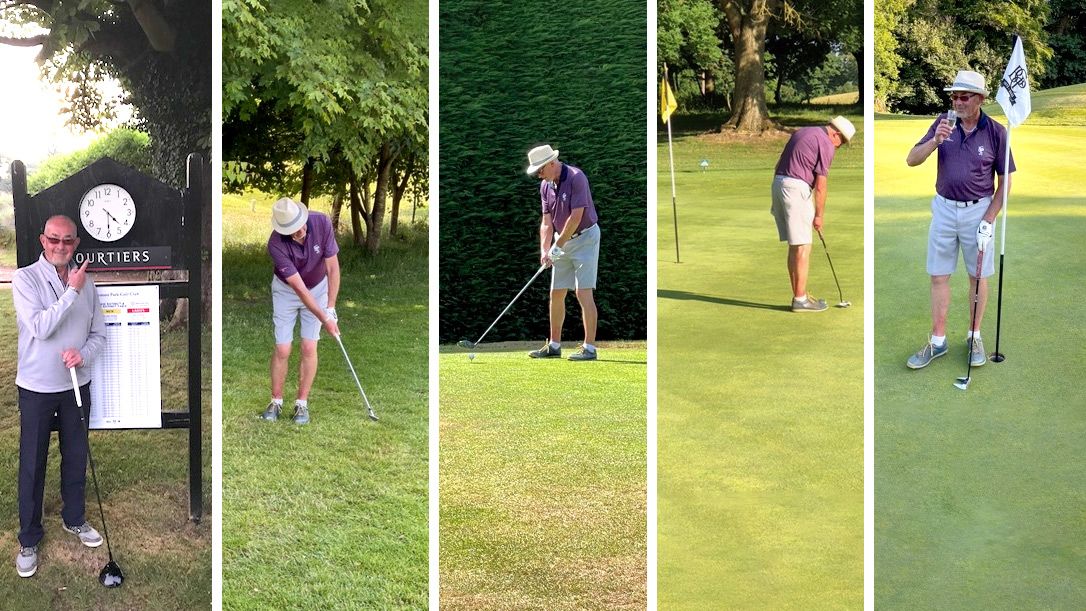 Before former Badgemore Park men's club captain Dave Haddock hit the first tee shot in his recent 3 Charities Longest Day Challenge, he said he hoped to go even further than the 101 holes he completed in 2017.
Speaking a few days after this year's Challenge, Dave has done just that, having completed a remarkable 110 holes. Over the course of the day that began at 04.30 and finished late into the evening of June 21, Dave played 500 shots, walking around 28 miles in the process. "My legs certainly knew about it," he says.
More importantly, as a result of his efforts and those who sponsored him, he raised £4,600 for three charities ;Maggies, Natasha Allergy Research Foundation and The Chiltern Centre . This was more than a third more than the £3,300 raised in 2017. "It was extremely successful, I am very pleased with it," says Dave. Among the money raised is £300 from Courtiers. "It's very much appreciated," he says. "Courtiers is delighted to have been able to play its small part, and congratulates Dave on his achievement," says Leo Hallam, Courtiers Head of Brand & Communication.
Dave praised the support of Badgemore Park members, not just for their generosity in sponsoring him, but for their support on the day too. This began with the pro from the club shop joining him on the first tee at 04.30 in the morning and continued during his more than six rounds of golf. "People were throwing down challenges for me," he says, describing how one member found himself £50 poorer after he challenged Dave "to get inside" his ball on one hole. Summoning "one last good swing from my old body," Dave duly obliged.
The aches and pains from this year's exertion having gone, Dave says he is already looking forward to repeating the Longest Day Challenge in five years' time. "I certainly wouldn't want to do it every year, if nothing else people get fatigued with it."
Having recently played in the Club Championships, where he came fourth, you wouldn't put it past Dave to repeat and even surpass this year's success in 2027.