Shareholder protection establishes a contractual framework to support business continuity and succession planning if a shareholder suddenly dies or becomes seriously incapacitated.
Without formal arrangements in place to manage business succession and provide financial support for dependants of a sick or deceased shareholder, the worst case scenario can arise. Putting in place appropriate shareholder protection should ensure that:
the shareholder's interest doesn't pass to an heir who may not have the necessary skills, experience or interest to continue the business
time is not lost looking for a replacement shareholder from outside the business
other shareholders who will not inherit a co-owner's shares will have the financial resources and authority to acquire them
the shareholder's dependants have a mechanism to turn inherited shares into cash should they wish to exit the business or need the funds to settle an outstanding debt such as Inheritance Tax
Ensuring an appropriate, tax-efficient shareholder protection scheme is in place can:
enable surviving shareholders to purchase the shares of the business from the sick or deceased shareholder and
provide beneficiaries or dependants with a willing buyer and cash, instead of an interest in a business.
What does shareholder protection Involve?
Financial: Life Insurance under trust
Shareholder protection involves a series of life insurance plans set up under a discretionary trust with co-shareholders as beneficiaries. Payments to beneficiaries are normally tax free if paid out at the discretion of the trustees. The plans can be set up in a number of ways to suit the company structure and there's an option to add critical illness cover to the mix.
How much cover?
Each shareholder takes out life cover in respect of their own shareholding. The level of cover is determined by the size of their shareholding and the overall value of the business. Some insurers might ask for a professional business valuation, whilst others may value the business using criteria such as net asset value or average profit before tax for the last three years.
Legal: Shareholder Agreement
The protection arrangement is underpinned by a Shareholder Agreement which sets out the mechanism for dealing with shareholdings at the relevant time.
Value in effect
Losing a business owner can have a huge impact on the day-to-day running of that business. Conflict in decision-making can lead to financial difficulties and could eventually paralyse the company.
The case study below shows how effective share protection can help avoid this situation, smooth the waves and keep the business moving in the right direction.
Two Counties Ltd is valued at £1,000,000. It is owned 50/50 by two director shareholders, Richard and John.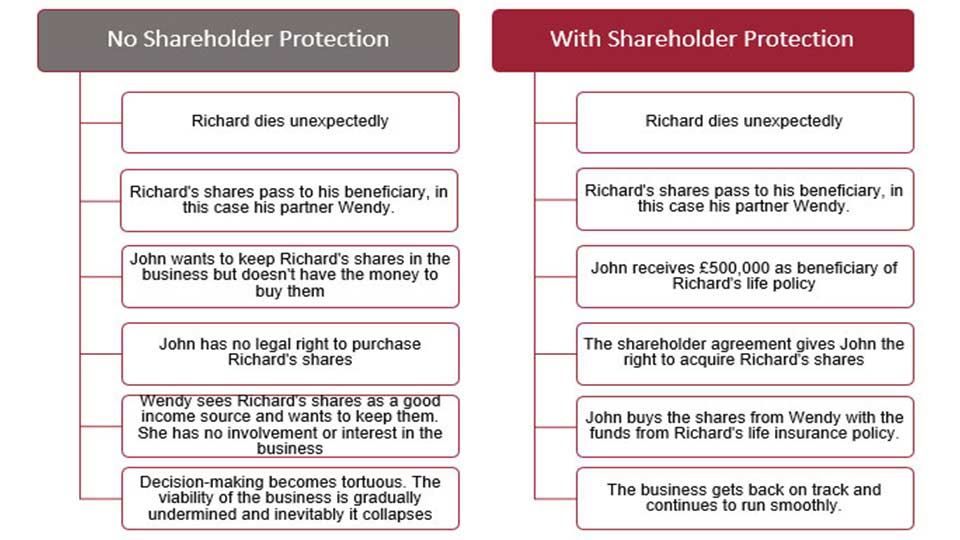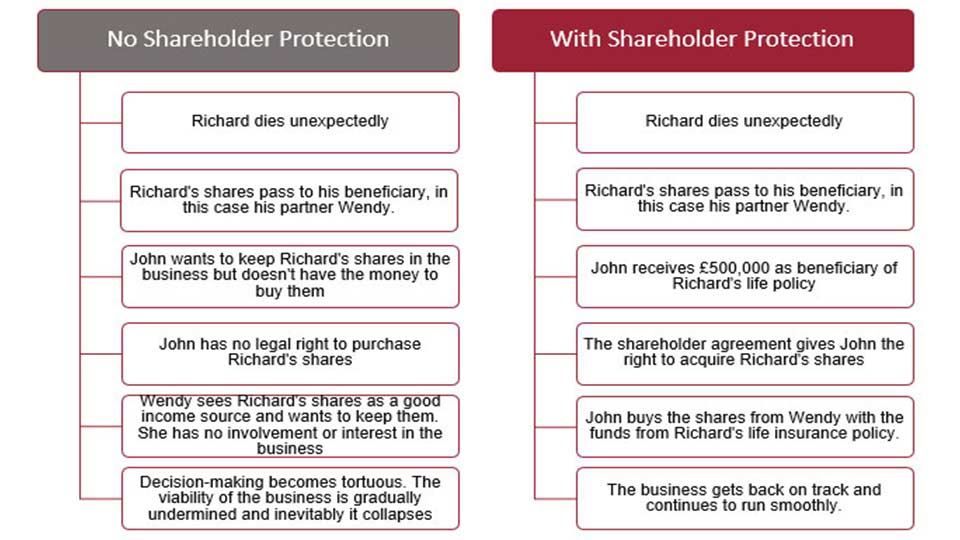 Taking the first steps
Before you begin, make sure that your Articles of Association permit the intended share purchase arrangement and give shareholders the powers to establish any necessary trusts.
Shareholders should seek suitable legal advice when establishing or amending a Shareholder Agreement or shareholder protection arrangement.