"The starting point of all achievement is desire."
Napoleon Hill, 1883 – 1970
Courtiers took to the spotlight at the Thomson Reuters 2016 UK Lipper Fund Awards on 19th April as the industry rewarded the company's capability and commitment to Wealth Maximisation.
Invited to speak in the afternoon's Alpha Forum was Courtiers CIO Gary Reynolds, while Head of Fund & Asset Management Caroline Shaw was delighted to represent the team, accepting three Fund Awards during the evening ceremony.
The Alpha Forum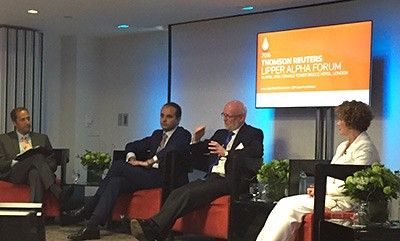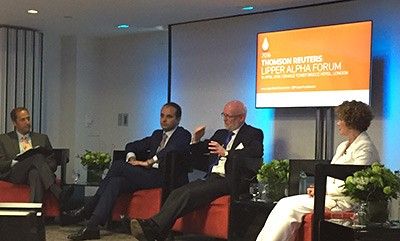 Gary was invited alongside other esteemed Asset Management professionals to answer the question, 'What's It Take To Win?' where he contributed to an insightful 45 minute Q&A session led by Robert Jenkins, Global Head of Research at Thomson Reuters.
Asked about his experience, Gary explained, "The occasion forced me to reflect on what's been a day-to-day process for over 30 years. When you're sat in front of around 150 people, all from the industry and someone asks 'what drives you?', you stop and think about it – and for me it became clear that while it's my job to focus on the Funds, it's our clients that are the core drivers because Courtiers works directly with Institutions, Companies and Private Clients as well as managing Assets. It's what the client wants that sets Courtiers goals – and we set out to achieve them through informed decision-making."
"We've worked with some families for over 25 years," Gary goes on. "Effectively we become a part of their family, guiding them through their ambitions and goals from a financial perspective to help them achieve what they want. It's a very rewarding experience when you think about it that way."
There is without a doubt a wealth of knowledge and experience in Gary which helps him see sense and keep a level head in a worldwide landscape of investment opportunity, and clearly he continues to apply this with positive effect to help maximise the wealth others created.
The Fund Awards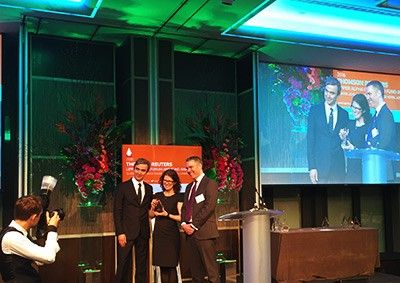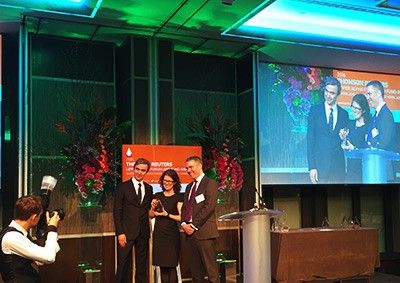 Following the forum, Courtiers CEO Jamie Shepperd and other key members of the team joined the event to celebrate the company's achievements and witness the awards ceremony. Caroline Shaw proudly accepted two Fund Performance awards for the Courtiers Total Return Growth Fund (best fund in its peer group over 3 and 5 years) and a Fund Group award for its Global Asset funds' consistent returns.
Asked how she felt about receiving the awards, Caroline said, "We are delighted to receive this industry recognition. Our team works hard to deliver returns within the risk parameters of our funds. We look to diversify exposure as widely as we can, we use cost effective ways to execute our asset allocation and we look for investment opportunities constantly."
"Where and how we work is important; a healthy mix of males and females in the team provides a balanced environment which Gary mentioned in the forum, as did neuroscientist and author, Dr John Coates – whose keynote presentation was phenomenally informative and entertaining."
Caroline's also proud that three members of the team are CFA Charterholders (#CFADifference) and mentioned a fourth team member will sit the Level III examination in June. "Having the CFA Charter means we have the same Code of Ethics as well as a shared theoretical knowledge, and we are part of a wider global community of investment professionals. We harness all our experience and skills to manage our clients' wealth."
"Together, not just in the Investment team but across Courtiers as a company, we're streamlined and it's nice to feel that other significant contributors in the Investment Industry recognise how well we work. What we aim to achieve is very important to us and we've built some great results on our vision, ambition, drive and commitment to maximise wealth."
In all, thought, positivity and optimism flow. These all serve as a reminder that desire is indeed the seed of achievement, and at Courtiers the desire lies both with the team and the clients. This desire is something reflective of the two-way "Listen, Understand & Guide" approach that Courtiers lives by.