"One of the first things a child learns in Japan is that a nail that sticks out will be hammered down. Being different is not a virtue in Japanese society"
(Michael Porter 'Can Japan Compete?', 2000)
Japan's problems are deep. The country is old, and getting older. The median age in Japan is 46.5, the highest in the world (the global median is just 29.6). Things will get worse. According to the United Nations World Population Prospects 2015 report, by 2050, Japan's median age will rise to 53.3. Even worse, the population is shrinking and is estimated to dive by 35% to 83 million by 2100. Over the same period, the world's population will grow by 53% from 7.35 billion to 11.21 billion.
As if this wasn't all bad enough, the over 60s, which currently account for 33% of Japan's population, will account for 42.5% by 2050.
A falling population that is getting steadily older means less workers, diminishing demand and a higher dependency ratio, ie., more old men for the younger men to look after. In case you think I'm being sexist, the gender gap for wages in Japan is one of the highest in the OECD with the difference between average earnings for men and women at 27%. Women in Japan hold only 2.1% of seats on boards of directors, and just 3.3% of managerial positions in central government. A country facing a declining labour force would do well to encourage an under-utilised proportion of its population to become more career minded. Alas, as with many other much needed reforms in Japan, it is unlikely to happen.
As I said in my research note of 3rd February 2016 ('Japan – The Land of the Rising Sum…of Debt'), Japan has struggled with economic performance and deflation for over two decades. This is reflected in the performance of its stockmarket where the Nikkei 225 peaked at 38,916 at the end of December 1989, and today stands at just 16,085, nearly 60% below its high of over 25 years ago.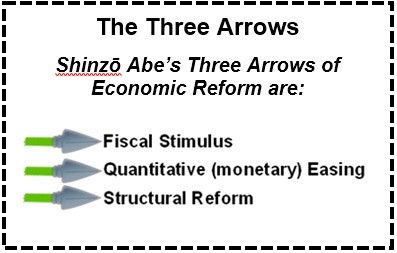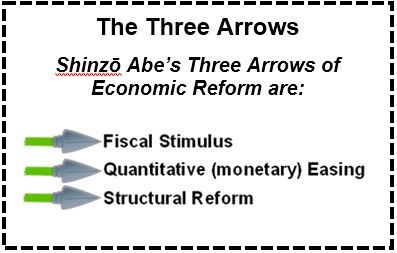 In 2012, Prime Minister Shinzō Abe was elected on a mandate of reform and introduced his "Three Arrows" of economic policy that would supposedly restore Japan's fortunes. The arrows are; 1) fiscal stimulus, 2) quantitative (monetary) easing and 3) structural reform.
Fiscal stimulus has been plentiful (politicians just love spending your money!), but as tax revenues have been weak, public sector borrowing ballooned. By the end of 2014, government net debt reached 126.1% of GDP. Gross government debt is even higher than in Greece.
The second arrow has also been fired with the Bank of Japan introducing QE (quantitative easing) of epic proportions. It now owns over 315 trillion yen in government bonds (30% of the total amount in issue) and that will continue to rise (see Chart A).
Chart A: Japanese Government Bonds and Treasury Bills Held by Bank of Japan (Yen Trillion)
Structural reforms could include unleashing the potential of Japanese women (which the government has spectacularly failed to do), or challenging a corporate sector that has established groups for its own self-protection known as the "keiretsu". The keiretsu have helped to feather-bed Japanese domestic business, sheltering it from competition and leading to vast inefficiencies in the home economy.
Unfortunately for Japan, Mr Abe seems to have lost his third arrow, or forgotten to take it out of his quiver. Fiscal stimulus and monetary easing are running full steam ahead, but structural reform is absent. Perhaps the story of Robin Hood never reached Japan, or perhaps the translation was weak. Mr Abe needs to understand that arrow firing super heroes are generally expected to rob from the rich and give to the poor, not the other way around!
If you are not a member of either a keiretsu or a large institutional establishment then you are treated like dirt by the management of the company in which you own shares. You have little say over the affairs of the business into which you are invested and the return on your equity will be among the lowest of all major world markets.
None of this encourages foreigners to purchase shares in Japanese companies, so we will continue our policy of remaining very underweight Japan.