Supporting a charity every year has become part of Courtiers' DNA. It's a commitment that runs through all levels of the company. "We all like to help others, and this is a fabulous way of helping," says Jamie Shepperd, Courtiers CEO.
Each year, employees put forward suggestions for charities they think the company should support, with the chosen charity being drawn out of a hat. The reasons why individual employees suggest a particular charity are often personal. This year's chosen charity, Thames Valley Adventure Playground (TVAP) was put forward by Adviser Mark Lovett, whose family has benefitted from its services.
A vital part of childhood
Based on a two-and-a-half acre site off the A4 in Taplow, Buckinghamshire, TVAP provides anyone with a special need access to suitably designed playground facilities, ensuring they don't miss out on this vital part of childhood and growing up.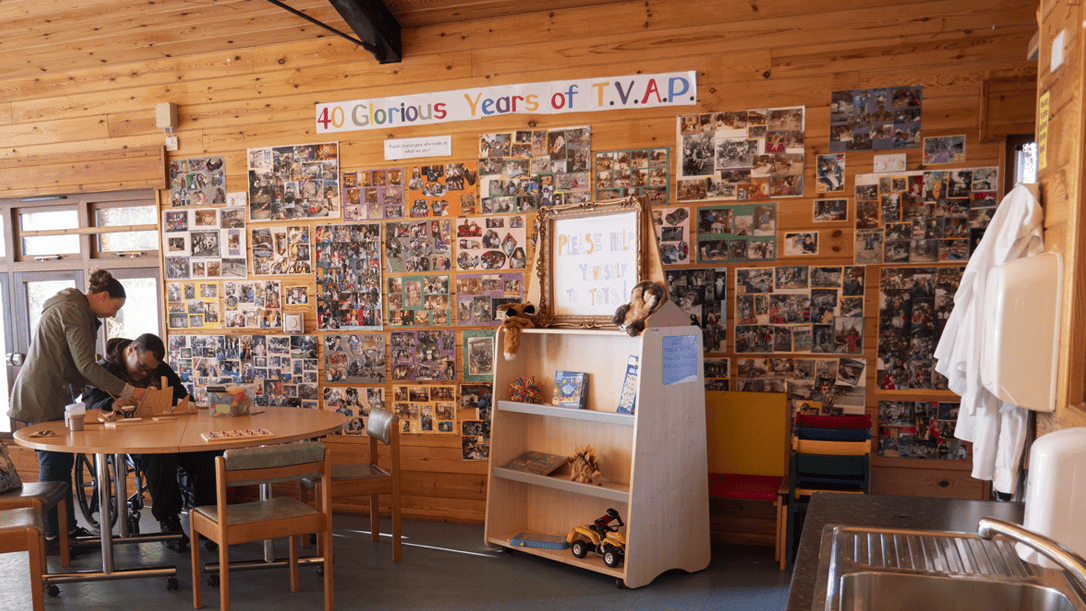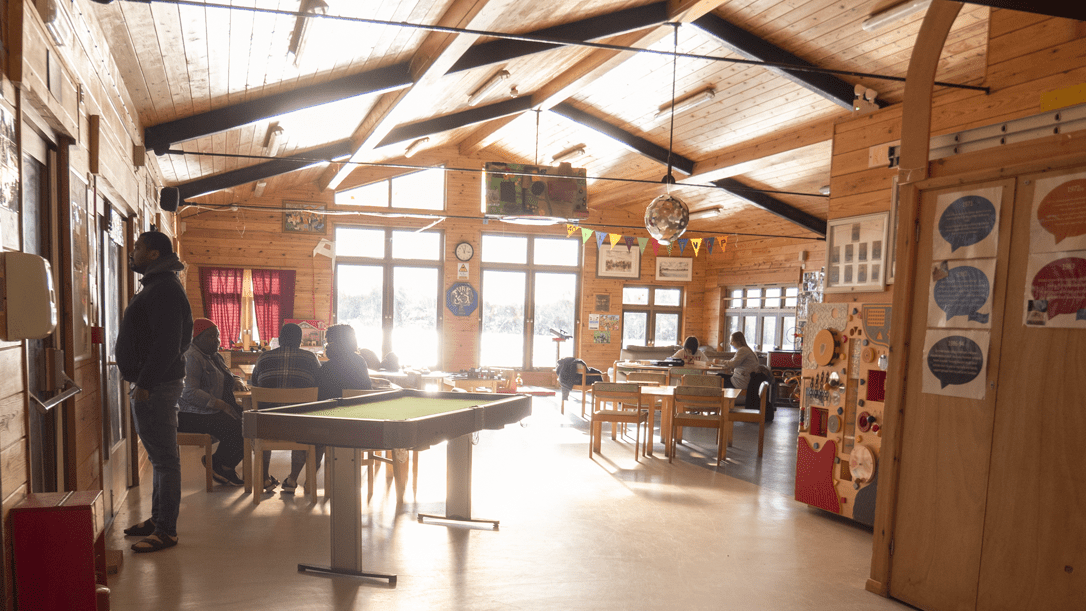 Any disability that precludes or inhibits a person from the use of mainstream play equipment, or that makes it difficult to join in with more able children counts as a special need. TVAP also puts on special activities for parents, carers and families of people with special needs aimed at supporting them.
Fundraising activities
Over the course of the next nine months, Courtiers employees will be busy organising and attending fundraising activities and events coordinated through the company's Social Club to support TVAP's work, which benefits 30,000 people a year.
Following a successful Halloween Raffle and with the World Cup Sweepstake proving popular, it's been a good start. After only three months, there's already nearly £2,900 in the kitty. At the end of the year, Courtiers will match the money employees have raised. We covered the work done by the Courtiers Social Club in a previous article.
I asked Mark why he suggested TVAP as Courtiers' 2022/23 Charity of the Year. "My son is autistic and when he was younger we visited TVAP a couple of times," he explains.
He says that taking his son to a mainstream playground had been "hard" because of the reaction of some neurotypical kids to his behaviour. In contrast, he says at TVAP "everybody is doing the same thing and nobody judges." The facilities themselves, with sensory areas and a light room "are things you don't normally get in a normal play area." Meeting other parents "who were in the same boat" and sharing experiences with them was also valuable. "Our overall experience of TVAP is that we found it really lovely, warm and welcoming."  Off the back of his family's positive experience, Mark says his parents then got involved with the charity and in promoting its work.
A visit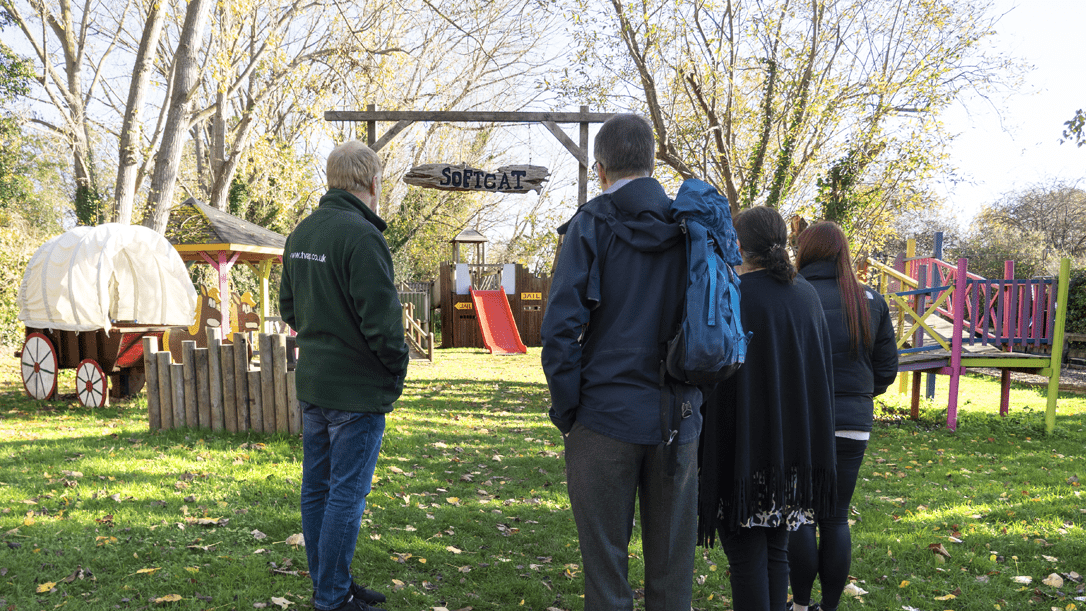 Earlier in the month, myself and three members of the Courtiers Social Club visited the charity's site in Taplow. We were keen to find out more about what it does.
My visit to TVAP alongside colleagues Sue Ruston, who chairs the Social Club, and fellow Social Club members Abbey Ruston and Courtney Shepperd certainly backed up what Mark said and confirmed TVAP as a worthy choice as Courtiers' Charity of the Year.
First impressions
Forget old-fashioned notions of the traditional playground, with its swings, roundabout and climbing frame. TVAP has so much more; crazy golf, table tennis, roundabout, 40m zipwire, maze, walkways, sandpit, paddling area and even its own train.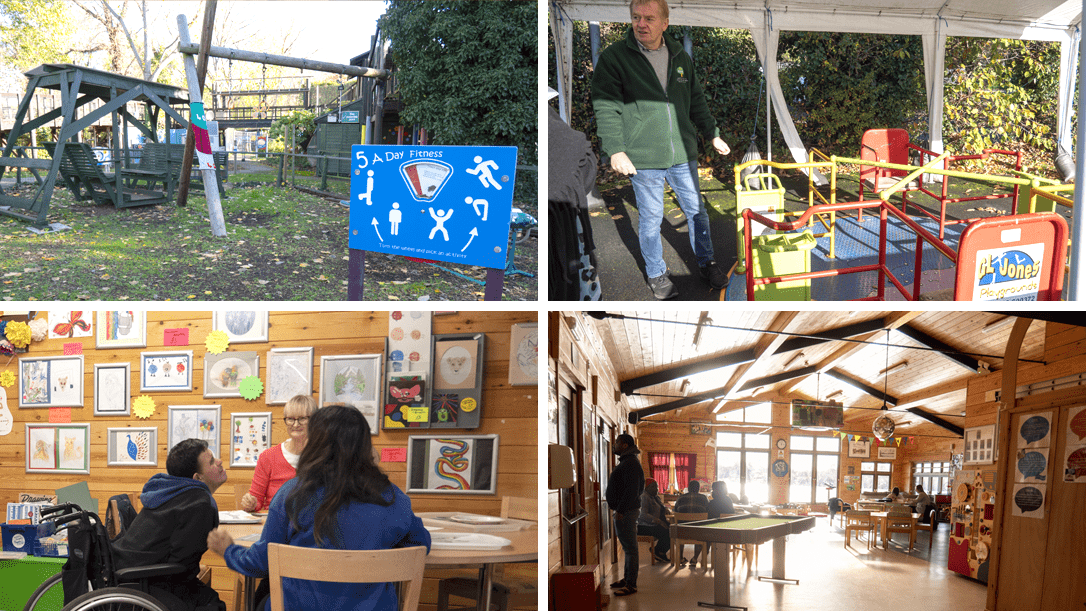 Many of these features have been adapted so they're suitable for everyone who visits TVAP. For example, the zipwire seat, while the roundabout is at ground level making it suitable for wheelchairs.
Then there's the site's sheer size. It took our group more than half an hour just to walk around part of the outside area. And that didn't include the wooded area in the far corner.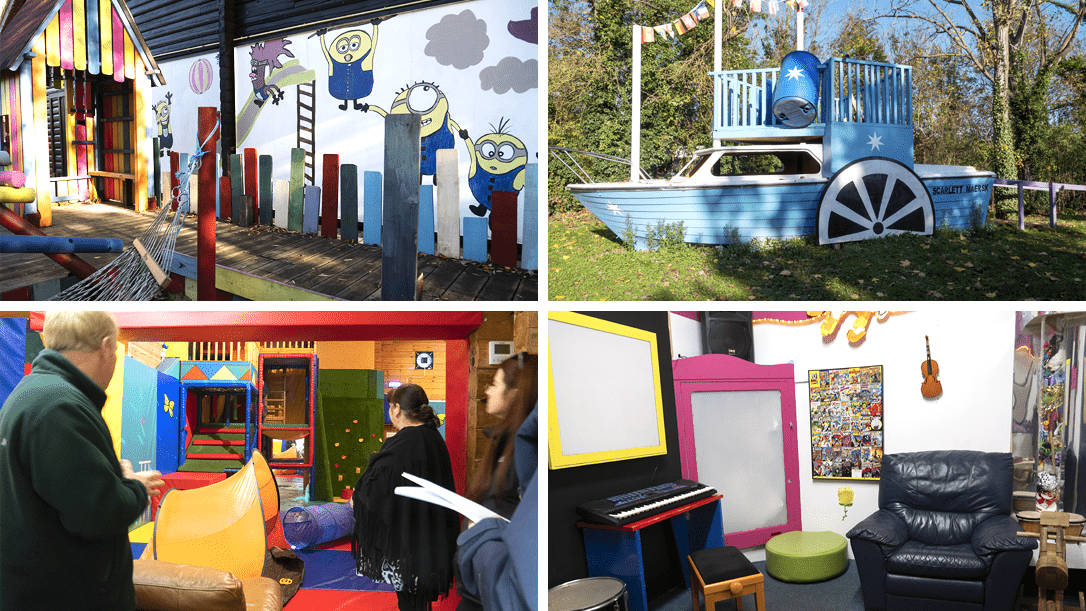 Paintings produced by visitors adorn the walls. Outside in the playground workshop, one of the workers is fixing a Santa Sledge. It belongs to the local Round Table, which takes it to local events like fayres and fetes to raise funds. In return for keeping it in tip top condition, TVAP receives a share of the proceeds. "We never say 'no' to anything because we have a very creative team," says Keith Hanks, TVAP's Head of Engagement and Fundraising, who showed us around the site.
All the TVAP workers we met were enthusiastic and clearly dedicated to the charity's work. Not least Playground Manager Gary, who's worked at TVAP for 34 years. "Why would you want a proper job when you can be in a playground all day?" he says with a smile. Most have worked at TVAP for at least 20 years.
From far and wide
TVAP's users come from far and wide. Not just from the local area, but also from as far afield as Reading more than 20 miles away, and Farnborough in Hampshire. "There's nowhere else to go, where their needs can be taken care of," says Keith.
Many schools send pupils, with most schools coming once a week. Children and adults from care homes, day centres, nurseries and play schemes accompanied by their carers are also regular users. Many attend with their parents or other family members. While Fridays are exclusively for adults, Thursdays have The Evening Fun Club for those aged 15+.
Funding challenges
With just 5% of its income coming from local authority grants, TVAP is heavily reliant on raising money from other sources. With £100,000 coming in from visitors' donations (£10 for every accompanied child is suggested) this leaves a shortfall of £250,000 a year to meet running costs, including the salaries of eight permanent workers. "That's just to stay still and of course we would like to do more," says Keith.
Reflecting on the visit and the work that TVAP does, Sue, who chairs the Social Club told me; "It's a really good charity. You can see that they work really hard to maintain it and to provide the service that their customers need. I'm really excited about raising lots of money to help them." It's especially nice that TVAP is "relatively local" and that being one of the larger national charities, each pound raised really counts.
To supplement Courtiers' fundraising, she said she hoped employees will give their time and help with practical tasks such as maintenance at the Taplow site.
Since Courtiers launched its Charity of the Year initiative in 2016, employees have raised more than £15,000. Previous charities to have benefitted include Pituitary Foundation, Crohn's & Colitis UK, Helen & Douglas House, Cancer Research, the MS Society and Meteor Club Henley.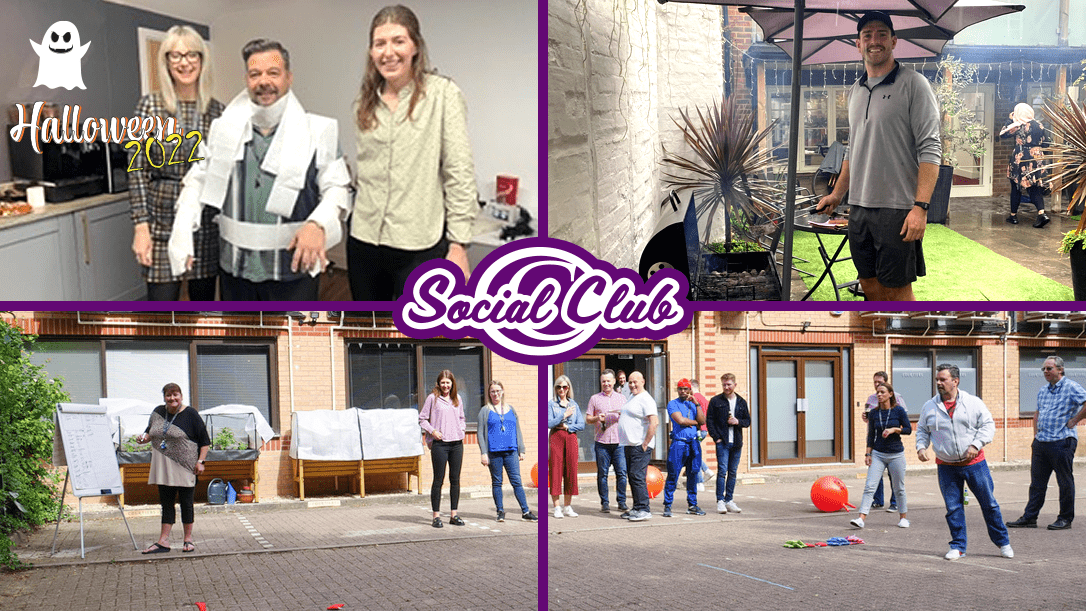 Support from the top
CEO Jamie says he's hugely impressed by all the hard work that employees put in. "Courtiers employees just amaze me, the lengths they go to make each event a great experience and how they are willing to help others."
He's fully behind their efforts and only too pleased that the company can help "by giving the employees the time, encouragement, and resources." He says Courtiers' promise to match the money employees raise is a way of saying thank you.
In addition to a charity each year, Courtiers supports a number of other community-based organisations including Rams Rugby, Witney RFC and Kidlington Youth Football Club. Courtiers' sponsorship of horse racing also supports the livelihoods of those in the horse racing industry across the country.
With many charities including TVAP still in recovery mode from the pandemic as well as rising costs and public spending under pressure, it's never been so vital for firms and individuals to step up to support charities, good causes and community-based organisations. Driven by the commitment of its employees and supported and encouraged by the company, Courtiers is endeavouring to do just that.